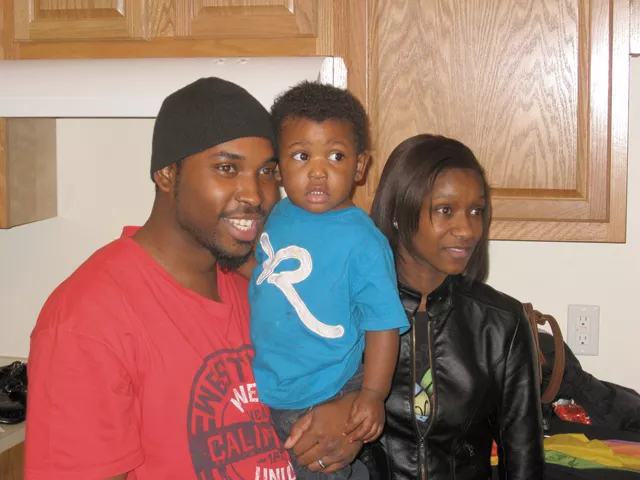 This past Saturday, even the grinches who grind out this column had to feel some strings being tugged on the gnarled walnut shell that passes for a heart here in our usually cynical realm.
We attended a small but remarkable event over on the east side, in the Morningside neighborhood, where the do-gooders at Habitat for Humanity Detroit are helping to engineer a remarkable transformation.
The occasion that brought us to Lakepointe Street was what's called a "house dedication," and there have been many of them in this area in recent years. You might not know it — which is why this piece is being written, to help spread the good word — but Habitat, along with the work it does rehabbing derelict homes for the deserving, is also in the (nonprofit) business of building new houses from the ground up.
The home Orlando McQueen Sr., his wife Kyomonique, and their two toddling boys, Orlando Jr., 3, and Jayden, 11 months, are moving into is one of them. The four-bedroom, 1,200-square-foot ranch cost about $100,000 to construct, but is being sold for its appraised value, somewhere between $60,000 to $65,000, says Bob Layne, Habitat Detroit's construction director. Corporate sponsors — in this case Compuware — help cover the costs. 
Contractors are hired to lay the foundation, do the electrical work and put in the plumbing. All the rest of the work is done by volunteers. The prospective homeowners — all people who would not otherwise qualify for a conventional mortgage — are required to provide between 250 to 350 hours of "sweat equity," working on their homes or the homes of people who will be their neighbors. That work serves as a sort of down payment to go along with the $1,500 in cash they have to come up with.
The mortgage has no interest, but the homeowners make monthly payments. Those payments, explains Clyde Lewers, "goes back into helping pay for other homes."
Lewers, a retired educator, is on the committee that interviews hopeful homeowners. 
It is an extensive process that begins with a visit to the places people are living in when they apply.
In the case of the McQueen family, the conditions sound like something straight out of a Dickens novel. The four of them occupy a single bedroom in a three-bedroom home in which other members of their extended family also live. The furnace has been on the fritz for a long time now, and it's getting cold again.
"My husband and I along with our two kids share one bed. My grandmother gave us the room and she sleeps in the living room in her hospital bed," writes Kyomonique in a "homeowner profile" that's included in a brochure handed out at the dedication. 
Along with the home visit, Lewers conducts an extensive interview that he says lasts as long as three hours. A lifelong Detroiter, he usually finds some connection between the family being interviewed and someone he knows. 
In other words, he's looking for ways to really check them out. The goal is to find solid citizens who will be an asset to their new neighborhoods. As Lewers puts it, what people see are the homes constructed, but the larger purpose is something not so readily apparent.
"Our goal," he says, "is to build a community."
For the newest members of that community, life is all smiles and tears of joy on this day. Neighbors and clergy and folks from Habitat have come to celebrate the dedication. There is a casserole and cake, prayers and speech. 
Caleb Merrit, with the voice of an angel, offers up an a cappella version of the hymn "It is Well With My Soul." Spirits, already high, rise even higher.
Afterward, Habitat construction director Layne leads visitors on a tour, showing the home's energy-saving features. Especially interesting is the high-tech tankless water heater that heats water as it is being used instead of just sitting there being warmed constantly. It will shave hundreds of dollars from the McQueen family's gas bills in the next few years alone.
"I'd put this house up against any other builder in the nation," he says.
We wouldn't doubt him.
Habitat has been focusing on three streets in Morningside since 2007. The area was chosen because, though struggling, it had a good upside, including its location near the more stable Grosse Pointe Park and East English Village neighborhoods.
With that foundation to start from, Habitat committed to building 100 homes. That goal is almost complete now, with 97 houses constructed so far. In addition, a significant number of other homes have been rehabbed, weatherized or boarded up. 
With completion of its initial goal imminent, the organization has decided to take on an even bigger challenge, spurred by a $1 million donation from General Motors CEO Dan Akerson and his wife, Karin. Habitat wants to use that as seed money for a $24 million fundraising campaign. The new goal is to help 500 families through building new homes such as the one the McQueens just purchased, but also for rehabbing existing homes and to weatherize others and make them more energy-efficient, helping to make living in those places more affordable.
The hope is to continue a transformation that's already well under way and having a noticeable effect.
Just down the street from the place the McQueen family will be moving into is a new house recently purchased through the same program by Clarissa Scott-Skinner.
The mother of three kids ranging in age from 3 to 11, Scott-Skinner, 35, works as a bank teller. Before moving to their new home she was renting a place on the west side. It was big and drafty and expensive to heat. It also cost her $600 a month to rent.
The cost of staying in her new home — mortgage, taxes and insurance — is $100 a month less. And, because it is super-energy efficient, she's saving another $100 a month on utilities.
But it's more than the extra money in her pocket, or the fact that she and her husband are now building equity in a home of their own instead of paying a landlord every month.
There is something about the security of having a place that is actually yours, explains Scott-Skinner. Even more special, she says, is the fact that she helped build it.
Sitting in the living room, she points to the front of the house, and recalls the day she helped hoist the frame for the front wall into place. It was in the summer of 2011, and it was hot and strenuous work, but she did it. 
"And now it's mine," she says, a pride-filled smile spreading across her face. "And I helped to build it. That makes it very special to me."
"This has definitely changed my life for the better," she adds.
Her new neighborhood — she's lived here since April — is working-class to the core, and "we all look out for each other."
Like others participating in the Habitat home-buying program, she had to attend classes to learn about budgeting her finances, and what it takes to be a successful homeowner. And people with credit problems have to get those cleared away.
The program is designed to help ensure that the people moving in will have the skills and knowledge necessary to stay.
"It's not like they just hand you your keys and say, 'Here you go,'" is the way Scott-Skinner describes it.
Its all part of what might be described as one big narrative composed of many individual stories.
Drive down Lakepointe and you see one new vinyl-sided, well-kept home after another. "Look around," says Scott-Skinner, "and you see the progress that's being made for all of us."
And then there are the individual tales of the families occupying each one of those homes.
For Scott-Skinner, part of the story is that the financial stress that helped cause her and her musician husband to separate back when they were renting has been alleviated, and they've reunited.
"Having this home has helped bring us closer together," she says.
Her kids are happier too, and that, as every parent knows, is beyond uplifting.
"When your kids feel secure, all is well." she observes.
So, she's asked, how would you sum up this program?
"It doesn't just give a family a home," she replies. "It gives them hope."
Back at the McQueens' new home, that hope, like the ornamental plants lining the front yard, is just starting to take root.
If you are currently a renter who can afford to pay a total of $500 to $600 a month for an energy-efficient three or four-bedroom home, you can contact Habitat for Humanity Detroit to see if you qualify by phoning 313-521-6691 (ext. 119) or going to the group's website at habitatdetroit.org.
News Hits is written by Curt Guyette. Contact the column at 313-202-8004 or [email protected]