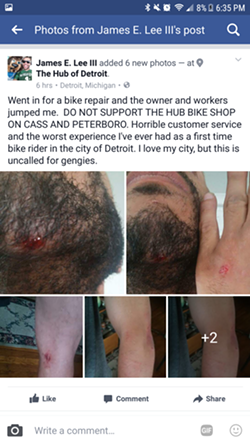 The Hub of Detroit, a longstanding Midtown bike shop, is closed this week due to safety concerns following an in-store confrontation with a customer last Thursday.
On June 22, James E. Lee says he was having service done on his bike at the shop when a Hub employee asked him to leave. Following the visit, Lee took to Facebook and alleged in a post that "the owners and workers jumped" him.
In the post Lee attached photos of injuries he says he obtained from the alleged altercation.
But, according to the Hub mechanic who was working on Lee's bike, that's not how things went down.
In a Facebook posted shared on the Hub's page, the mechanic, Naheem Browne, says Lee was asked to leave after using "abusive language" and security footage shows Lee shoved Browne after being asked to leave.
The security footage has been posted on social media and Lee has since removed his original post.
Sherry McLaughlin, president of the Hub of Detroit's board of director, spoke with
MT
, saying Lee's crude language included asking Browne if he was, "working for the master now." She also noted that Lee's father came to the shop following the incident to inquire about the details. Workers offered to show him security footage, but he declined and left the shop.
"This created all sorts of anxiety," McLaughlin says. "There were some threatening comments directed towards the Hub."
The same day, the Hub alerted customers via social media they would close temporarily in light of the incident.
"The threats were making the employees a little uneasy and I said we don't need anyone to feel unsafe working there — if they don't feel safe working there let's close the Hub down until we can figure out what to do with this," McLaughlin says.
The Hub has notified Wayne State Police and the Detroit Police Department of the threats and will be closed until Wednesday, July 5, when they plan to return to normal business hours.
MT
reached out to Lee, but he has not returned our request for comment.
Kayla Cockrel is an editorial intern at the
Detroit Metro Times
. She studies online journalism, media production and global studies at Wayne State University. She's often following music, urban planning, arts and culture.