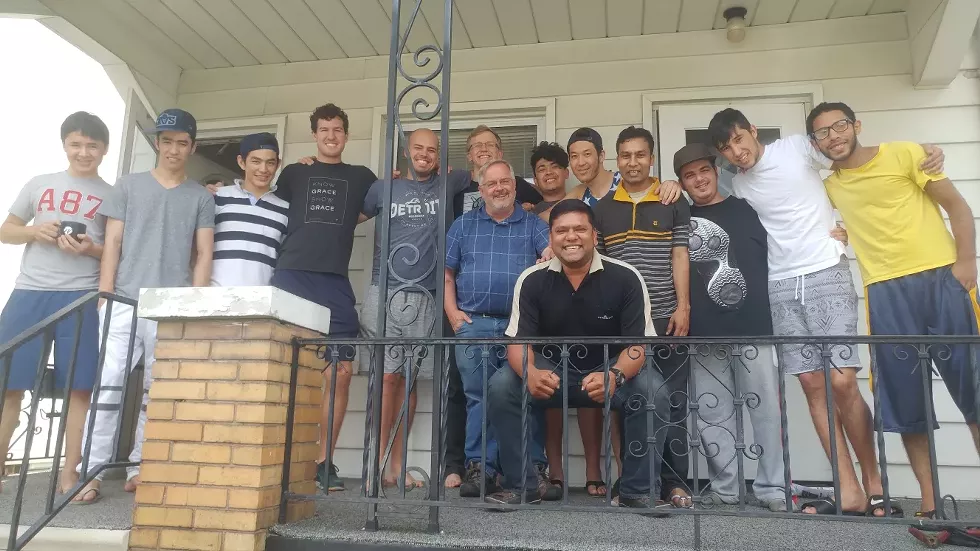 The first day Rahin Rahman remembers being in America, he was trying to get a haircut. Living just within the borders of Detroit's east side, Rahman wandered over into the neighboring town of Hamtramck, a space he knew was home to other Bangali-Americans like him who had recently immigrated to the U.S.
"I was really excited to look around the city," he says, recalling the day two years ago.
His hair successfully trimmed, Rahman left the barber shop and found himself completely lost, without navigation or a working cell phone. John Kirby, a man he did not yet know, was sitting nearby in his car. Kirby noticed Rahman aimlessly wandering, and asked him if he needed help. Kirby offered to give him a ride home, and on the way, Rahman told Kirby his life story.
"Anytime you get into any trouble, just let me know," Kirby had said to Rahman. It was a promise he intended to keep.
An American citizen by birth, at the age of 3, Rahman returned with his parents in Bangladesh. It was the place where he grew up, where he had friends and went to high school. He intended to continue living in Bangladesh after graduating, but in 2011 his father had a stroke. That changed everything.
Rahman's father was left in a coma, and when he recovered, he could no longer work. As an American citizen, Rahman believed it would be easiest to help his family by making money in the U.S. "So I decided to come back," he says.
Kirby, the man Rahman first met while he wandered around Hamtramck, soon became a critical part of Rahman's transition to American life.
When Rahman needed a job, he called Kirby to help. When he developed arthritis in his knee, he called Kirby to get him medical assistance. When Rahman was robbed at gunpoint three times within four months working as a pizza delivery driver, Kirby, and the community he built, provided Rahman emotional support and a new residence free of charge until he could get back on his feet.
'Uncle John'
Rahman was not the first person transitioning to America that "Uncle John," as he is referred to, found himself helping in Hamtramck. There's no shortage of people making the transition in Hamtramck — the city has an immigrant population of 42.3 percent, one of the highest in the country.
Kirby and his wife moved to Hamtramck in 2012 mostly to follow their daughter, Claire. His wife works at Better Life Bags, a successful Hamtramck business that employs many Muslim women in the community. His daughter, Claire Kirby, helps run Sisterhood Fitness, a fitness and community center that helps Arab and Muslim women to workout and integrate into the city.
After getting more acquainted with the area and talking with immigrants his daughter and wife met in need of help, Kirby began helping newcomers acclimate to their new home.
"We find out new people are coming in," he says. "We just go to where their house is and knock on the door, introduce ourselves, and step into things. They're like, 'Who is this guy?' 'What's going on here?' We just say, 'You know, we're glad you guys are here. Al-hamdulillah, you have arrived. We're sorry about what has happened to you. Would you like some help getting your kids registered for school?'"
They ask if the family needs medical care. They inquire if the men are in need of jobs. They try to help the family learn English. They provide tutoring for their kids. One of the most memorable examples of this occurred in 2016, when John and his wife aided a Syrian family who recently fled the civil war in their home country.
If you are new to America and don't meet someone like Kirby or find a community foundation, integrating into American life can be challenging.

tweet this
The Syrian family had many needs — finding jobs, learning English, and becoming more socially included in the community. The 9-year-old boy in the family, who thought America was the future, exemplified this last desire best.
America, to him, "was the place where there were flying cars and there were robots," Kirby says. The boy was afraid he didn't belong in that world, that he wouldn't fit in to such an odd, scary place. With Kirby's efforts, the boy's fear subsided.
Recently, Kirby visited the relatives of his Syrian friends, who, having also fled the civil war, are stuck in Lebanese and Jordanian refugee camps. He went bearing gifts, hugs, and prayers as a surrogate for the Syrians in Hamtramck. The conditions of these refugee camps, according to Kirby, are horrendous. Thousands of kids can't go to school and people are living in squalor, jammed together next to hundreds of families who had to abandon their homes in Syria.
Life as a new American
If you are new to America and don't meet someone like Kirby or find a community foundation, integrating into American life can be challenging.
In the case of refugees, the federal government will provide limited support. Government-funded resettlement agencies will often provide assistance, but only for three months. They will assign an agent who speaks the same language as the immigrants to help the family set up a bank account, sign up for English language courses, get job training, and provide $1,000 cash allowance for three months.
After that time, however, the family is on their own.
Non-refugee immigrants have more challenges. They aren't able to access public assistance programs — like Medicaid, food stamps, and subsidized housing options — which has been law since 1996, when the Clinton administration reformed welfare.
Broadly speaking, no government agency is designed to help new Americans integrate into the structures and cultural quirks that operate within our borders — for refugees or other immigrants.
"There is no system that says, 'OK, this is how you rent an apartment, this is what you need to know when you purchase a vehicle, to get a title and to get insurance, and to do all these things,'" says Ruby Robinson, a supervising attorney with the Michigan Immigrant Rights Center. "That's not something that the federal government, or even state government, gets involved in."
Like the federal level, the same is mostly true regarding aid from the local Detroit government.
The relatively new Office of Immigrant Affairs in Detroit has "supported initiatives" for immigrants in Hamtramck, says OIA director Roberto Torres.
In conjunction with Global Detroit, a nonprofit that works to increase initiatives that aid and draw attention to the work of the Detroit immigrant populations, the OIA established a 2016 action plan, but it didn't offer new resources for immigrants.
Kirby has worked with the same city officials who are trying to attain affordable housing for immigrants. According to him, most of these efforts have been delayed.
"I asked them when this first came out, I said, 'When is this plan going to be finished?' They said, 'Well it will be nine months from now,'" Kirby says. Four months later, he met with the officials again. Their response was the same.
For now, some of the most extensive help for new Americans has come from volunteers like Kirby who try to leverage "practical ways to help people begin to figure out the way to become connected to the community."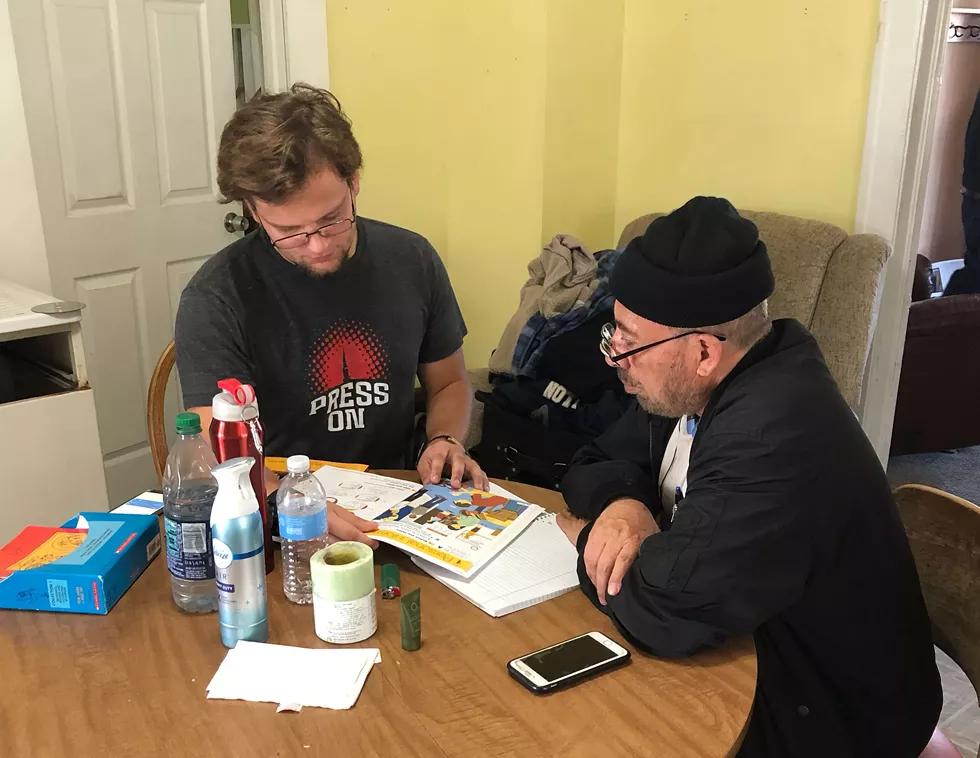 An integrated home
In 2010, Kirby bought a home in Hamtramck that has come to tangibly represent his philosophy on integration.
"The house is designed in a way that if people are struggling, they start off with no rent, helping people get on their feet, and get jobs, cars, and those things," Kirby says. It's also a place where both older and newer Americans meet, can learn about cultural nuances, and, most importantly, become friends.
That friendship is palpable upon entering the home. Sitting in the typical two-story Hamtramck home, with its crowded rooms, narrow spaces, and backyard, is Ibrahim, an immigrant from Lebanon, who is explaining to Caleb, an American-born citizen and Ibrahim's housemate, an Arabic phrase.
"I want to say, 'I don't understand' in Arabic [to my student]. It's not working so well in English," Caleb explains. Ibrahim tells Caleb the phrasing with the male gender pronouns because, as Ibrahim explains, you don't want to use female pronouns if your student is a boy.
"Be careful if you say enti," Ibrahim warns. "They will look at you like, 'OK?'" The two erupted in laughter.
Another house resident, who moved into the integrated home a few years ago, is Harsh Bhavsar, an American citizen who grew up in India. Since moving into the home, Bhavsar has been formalizing his work into One New Humanity, a community development corporation that focuses on helping the Yemeni, Bengali, Lebanese, Iraqi, and Syrian community in Dearborn and Hamtramck.
"We have people doing ESL here, we have people doing citizenship classes, we have people working at the garden," Bhavsar says. Most importantly, though, they've been helping acclimate people into the culture. Bhavsar understands the benefits of this ethos most — he's lived half of his life in India, and the other half in America.
"For people who are coming from a different country, especially at a much older age — like 17, 18 — it's very hard to succeed and be incorporated into a culture unless there is somebody who is guiding them," he says.
Importantly, One New Humanity is trying to walk a fine line: welcoming people and integrating them without having them abandon their cultural identity.
"I think the American culture is very good with achieving ... but I think it can sometimes come at the expense of the family, and it doesn't have to be that way," Bhavsar says. "There's a happy median and balance in between."
Transitioning can be quite hard, as some of the past experiences of refugees living in the home are quite harrowing. Two residents are men whose fathers were both murdered by the Taliban. But for Bhavsar and One New Humanity to really help these folks, there's one important question to answer.
"Does that person feel like they have been loved and they have been served?" Bhavsar says.
Help yourself by helping others
It's not that Kirby is simply trying to help new Americans — he wants to help native-born Americans too. "I'm not just trying to help Rahman and Shuman and Mohammad and Ahmed," he says. "I'm also trying to build a bridge and understanding with Tom, Bill, Suzy in the different, more homogenous communities, for them to begin to get an understanding."
It's Kirby's understanding that if you don't know someone, your default setting is to fear them. It's his goal to interrupt this feeling, and build bridges between people from different cross sections of America.
For most transitioning to life in America, however, their outcomes are often not as great as when assisted by Uncle John, as Robinson of MIRC suggests. To improve our immigration system, the attorney recommends that America replicate the Canadian model. Canadian refugees, he explains, have a full year of financial assistance to learn French or English, get job training, find a job, and become stable.
"I think what that does is allows a person to integrate into the community, and allows the community to embrace and accept that individual if there are more resources available up front and they last longer than three months," Robinson says.
In the meantime, there are communities like Uncle John's. Recently, Rahin Rahman invited his sister to come live with him in a separate house in Detroit. He applied to get the rest of his family American citizenship so they can move here too, and hopes his parents will arrive within the next year.
Rahman recognizes that his success was contingent on luck.
"My brothers in the Hamtramck community wouldn't let me down," he says. "They helped me in every situation."
Stay on top of Detroit news and views. Sign up for our weekly issue newsletter delivered each Wednesday.