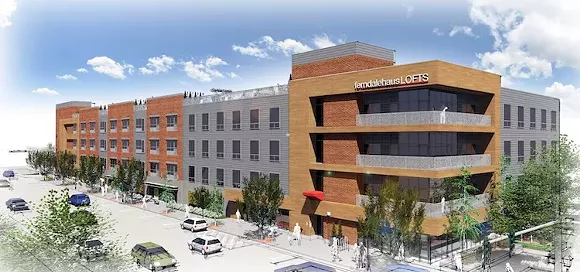 From downtown Detroit to Birmingham and beyond, the Woodward Corridor is seeing ramped-up investment and development. And that's completely positive news for many. Every new building from downtown to Midtown is welcomed as a win. Up in Royal Oak, even some of the more controversial-seeming ideas — a plan
to sell City Hall
or
to erect a 25-foot-tall statue of a sailor kissing a nurse
— appear to be greeted with almost unanimous approval.
But some communities offer a bit of resistance to this boom. Historic districts in, say,
Birmingham
, attempt first to determine whether a development is appropriate before ground is broken. From time to time, citizens voice concerns about development impinging on the suburban character of their neighborhoods. Ferndale, for instance, has been a trouble spot, as when concerns about parking, traffic and building height hurting the small-town character of Ferndale
helped scuttle a public-private plan known as 3-60 last year
.
One upcoming development, breaking ground in April, is getting a mostly warm greeting from its future neighbors in Ferndale. It's a four-story mixed-use project to be built at 430 W. Nine Mile Rd., where the old Save-a-Lot building stands. The first floor will have no retail, but will have 1,345 square feet of office space, as well as 90 parking spaces. The upper three floors will have 90 units comprising 79,200 square feet of residential space, as well as a gym, a community room, and a rooftop deck. It was designed by Designhaus, a Rochester-based architecture firm, for Bloomfield Hills-based Arbor Investments.
Still, not everybody is delighted by the project in its entirety. The fact that the 90-unit development will have 90 parking spots isn't lost on critics. Unless all residents live alone and never have guests, the development is sure to put pressure on Ferndale's parking situation. (A Designhaus spokesperson counters that the amount of spaces conforms to Ferndale's zoning code requirements.)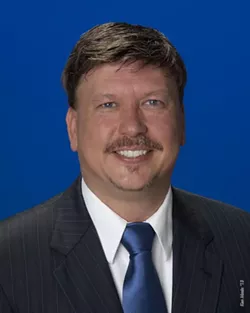 Then there's the modern, boxy look of the structure, which seems as though it could have been plunked down anywhere from here to Albuquerque. Ferndale City Councilman Greg Pawlica explains how you can love the investment while critiquing the design. "Trust me," Pawlica says, "I am thrilled that we're going to get 90 new units, residential units, in our downtown. We have sorely lacked residential living in our downtown for years and years. My only issue is the design. I'm not in favor of what the building looks like."
Of course, that's something Pawlica has no control over. He hastens to add that, with the previously mentioned 3-60 Project, the public at least had an opportunity for input. In the wake of that endeavor's collapse, the municipal government is more interested than ever in getting residents involved. "The mayor brought together a group of residents and business owners to help kind of identify what we really wanted for the downtown area," Pawlica says. "And we're actually working with that group, and with the information that they've developed the city is now going one step further and now putting out a RFQ for a developer to come in and work with us to develop a parking structure and some other elements."
But as a completely private development, the Save-a-lot project may look pretty much any way the developer wants it to. "The city doesn't have a lot of say other than ensuring that it meets code and requirements," Pawlica says.
And when it comes to the building scheduled to replace the Save-a-lot, Pawlica feels it leaves much to be desired, aesthetically speaking. "To me, and to a lot of other people, it is just way too modern. It doesn't have any character to it. I personally think it's unattractive … I don't want to single out this one developer at all — but the trend has always been to build simple, cheap, and get a return on investment as quickly as possible."
Why does the transformation that development brings provoke such a lively discussion in Ferndale, as opposed to elsewhere in the string of communities along the Woodward axis? Pawlica offers insight: "A lot of people, myself included, moved to Ferndale because we do like the small quaintness of the city in the middle of a metropolis. You're only minutes away from downtown Detroit, a major city, but when you're in Ferndale you feel like you're in a small town. And I feel that people are concerned that with big development you completely transform that scaling of a small downtown."
Pawlica adds that cities can require certain era design elements be included, "so that as Ferndale grows in height with new construction it doesn't feel like its history is being replaced by modern construction. It's being done across the country. I think it's important that we find developers that are willing to develop or build those kind of structures and design those kinds of elements into new construction.
As Ferndale makes another run at development informed by the desires of residents, in partnership with a private developer, it's a discussion that should only draw more participants.
"I'm hoping with the project that the city's starting to work on will have more historical elements in the design. That's what I'm going to be pushing for."
As for the building that prompted this article, Pawlica says, "I'm so not against the project as a whole. I just … it so could have been made prettier."