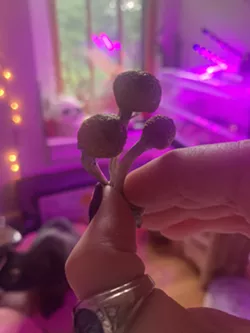 My most recent trip took place in September. No, like, it was the first time in a long time that I traveled outside of the tri-county area, and it was also the first time in several months that I took mushrooms, via my and my new husband's preferred method: mushroom tea. We camped at a rustic campground in Ossineke on the shores of Lake Huron, just one campsite down from a grave where a man who washed ashore in 1865 had been buried. The weather had already turned its back on summer, so we hunkered down around the neverending campfire, with s'mores supplies, a pile of blankets, and enough Golden Teacher mushrooms to provide us the release we traveled nearly four hours to experience. It was raining off and on but we didn't mind. We drank our mushroom tea (which is simply, measured out dried magic mushrooms and a tea bag that masks the taste; we vote for lemon ginger every time) and explored the forest in which the campground was nestled. We celebrated each animal track, fallen trees, the sound of leaves beneath our feet, and the possibility that we may never find our way back, which was, actually, sort of totally fine by us. The deeper we went into the woods, the further the shrill and unnatural sounds of fellow campers became. Any evidence of people threatened our trip, so we, like mushrooms, forged our own path.
When we returned to the site, I covered myself in blankets and draped myself over a picnic table, laughing at my husband's delayed The Lord of the Rings commentary, complete with impressions and hot takes. My daily chronic pain issues ceased to exist and I felt warm and held as we ventured to the beach where a double rainbow appeared, stretching across the sky, connecting land and sea. We marveled at nature and did all the things people do to ensure that we were not, in fact, dreaming and/or hallucinating. (We weren't, and have photographic evidence to prove it.)
The tail end of our trip, we ventured into town for provisions. I do not recommend this, but we felt capable and barely impaired. While my husband did what I could not — go into a gas station for beverages because, ugh, people — I had to, like, really had to hear a specific song covered by a specific person from a specific HBO show: Justin Theroux singing "Homeward Bound" by Simon and Garfunkel from a scene in The Leftovers. I pulled up YouTube (again, I don't fully recommend using technology while tripping, but when you gotta stream, you gotta stream), and sat with my eyes closed as Theroux's voice quivered and quaked. "Each town looks the same to me, the movies and the factories / and every stranger's face I see / reminds me that I long to be / Homeward bound, I wish I was," he sang, off key and out of tune. I closed my eyes just before a stray tear could travel down my cheek.
I had been running away from so many things since my own subconscious voice told me to pack up and leave while under the spell of magic mushrooms in 2012. Sure, I've been in therapy for eleven years and am well versed in my behaviors, traumas, and why I am the way I am. But it's as if that voice from 2012 had been playing on a loop until it eventually became faithful white noise, like the constant background hum of a refrigerator. It sometimes gets louder when I am confronted with something that would be much easier to deal with if I just kept running, kept moving, never looking back.
My eyes shot open as my husband opened the car door with beer in tow.
"Ready to head back?" he asked.
I nodded, confirming silently within myself something I had waited years for permission to do: I could stop running. I was home.
Stay connected with Detroit Metro Times. Subscribe to our newsletters, and follow us on Google News, Apple News, Twitter, Facebook, Instagram, or Reddit.