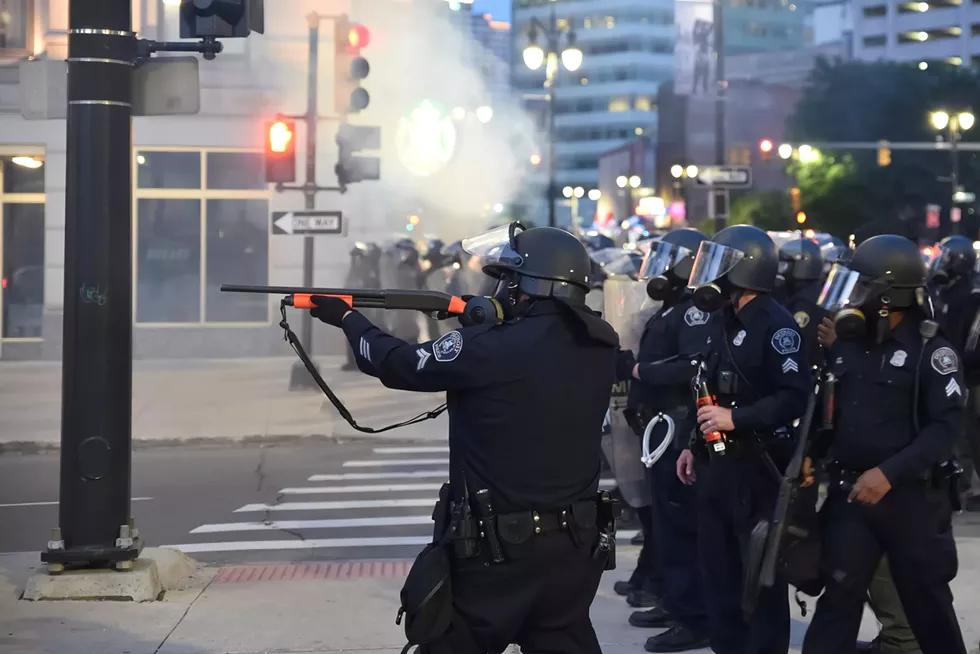 Back home
Craig returned to Detroit in 2013 with his hometown on the cusp of the nation's largest-ever municipal bankruptcy and a new title that owed to the decline: police chief. Appointed to the role by former Detroit Emergency Manager Kevyn Orr, who was installed by then-Gov. Rick Snyder with the power to supersede democratically elected leaders, Craig inherited a struggling department.
Starting salaries for officers had fallen to a paltry $30,000 with Detroit ranked the most dangerous major city in the country for the fifth year in a row. Crime response was abysmal, giving one reporter who showed up to the scene of a home invasion enough time to take a bubble bath, read to the victim's grandkids, and twice hit a drive-thru before police arrived. The department, still under federal oversight, had cycled through five chiefs in as many years, with two forced out after affairs with the same subordinate.
Craig's arrival marked a turning point. With resources freed up by bankruptcy and his path cleared of obstacles like an elected oversight board and fixed union contract, he ushered in a series of reforms that boosted morale and signaled change to residents, raising officer pay, putting an end to unpopular 12-hour shifts, and reclassifying high-level emergencies to bring response times in line with the national average.
But his outsider status and subsequent restructuring of the department made him a polarizing figure. Disgruntled subordinates described a thin-skinned egoist who surrounded himself with unquestioning loyalists and promoted a culture of favoritism that sidelined longtime ranking officers. Incidents like the punishment of a lieutenant and commander who exposed rampant overtime fraud that involved the step-brother of a Craig deputy, David LeValley, fueled accusations of nepotism.
By contrast, those in Craig's good graces say he was a problem-solver who motivated officers and created a sense of family, establishing what former deputy chief Reneé Hall called a "world-class leadership team" by elevating "forward-thinking" officers over those who might be stuck in old ways. Hall is among a handful of Craig's top brass, many of them women, who've gone on to lead departments in the suburbs and major cities around the country.
Though Craig had equal parts loyalists and detractors within the department, his canny public relations instincts helped him avoid the same turbulence in the community and maintain power longer than nearly all of his modern-day predecessors.
'The biggest NPO'
When asked upon retirement what he was most proud of, Craig cited a community relations apparatus of which he was ultimately at the center.
At the core of community policing is the notion that people are more likely to obey the law "when they believe that those enforcing it have authority that is perceived as legitimate." And so, as national outcry over the high-profile police killings of unarmed Black men reached a crescendo, winning over Detroiters became central to Craig's approach, helping imbue a department under federal oversight for excessive use of force and illegally detaining witnesses with an aura of transparency and accessibility.
Inspired by a position he held in L.A., Craig designated about 60 so-called Neighborhood Police Officers (NPOs) to attend community meetings, walk the beat, and address non-emergency issues proactively and non-punitively when possible — like chopping down an elderly woman's overgrown bushes, where a rape occurred, rather than issuing her a ticket. The officers served as ambassadors for the department's goodwill, helping coordinate clothing, school supply, and turkey giveaways, and hosting "trunk or treat" events so kids could pull candy from police cars on Halloween rather than go door-to-door in unsafe neighborhoods.
Craig himself was the "biggest NPO [the department] ever had," said neighborhood police officer Baron Coleman, regularly visiting barbershops, restaurants, or grocery stores to glad-hand residents — not unlike a retail politician — and appearing before news cameras so frequently he earned the nickname "Hollywood." Though his goal was ostensibly to brief the public of the goings-on of the department, Craig loves the limelight and can play different parts, shifting easily between commanding and charismatic. He could be in full cop mode at a press conference — serious, stern, putting criminals on notice; or in party mode at a social function — grinning and dancing center stage to the Ying Yang Twins, rocking a move popularized by a local rapper killed in gang-related violence. In or out of uniform, he dresses stylishly, in horn-rimmed glasses and fashion-forward accents like suede shoes or a leather bomber jacket with fur trim.
At Christmas, he'd wear a red hat to play Santa, giving toys to kids in need with news crews on hand to amplify the benevolence. Once, he took a stack of cash on the road to give to drivers and passengers expecting tickets, among them a woman who had run a stop sign with a car full of children. Instead of a $90 citation, Craig passed her a $100 bill, along with one for each child, according to Coleman, who witnessed the giveaway.
"The citizens would talk to us as if they knew Craig personally, and I think he knew how to capitalize on that," said Ira Todd, a recently retired longtime detective with the department. "I'd see people out on the job, and they'd be like, 'Tell James I say 'hi,' that's my boy!'
"He knew if he got the community behind him, everything else would fall into place."
Craig deftly handled the darker side of community relations, too, proffering swift explanations for killings by officers and promising thorough investigations. Twice he was credited with defusing tensions following law-enforcement shootings eventually deemed justifiable by the Wayne County Prosecutor's Office.
In 2015, his measured response to protesters who gathered over the killing of 20-year-old Terrance Kellom by an Immigration and Customs Enforcement agent earned a place in a generally flattering profile published by Bridge Michigan the following year, with the online magazine noting, "That night, Baltimore was burning. Detroit was calm."
Craig told the crowd that Kellom brandished a hammer, though a Detroit police officer present during the incident later said he couldn't recall whether the young man was holding anything when he was shot to death.
Operation Hammer 2.0
As Craig extended $100 bills with one hand, he held his other in a fist, adopting crime-fighting strategies criticized as antiquated attacks on the poor.
Within months of his return to Detroit, Craig orchestrated a paramilitary-style raid unlike any the city had seen in decades — a potent display of the force's newfound zeal for crime-fighting. The opening salvo of Operation Restore Order deployed 150 officers from multiple agencies to a Jefferson Avenue apartment complex where, aided by an armored truck, helicopters, and what one attorney called a "blanket search warrant," they busted down doors with guns drawn and, in turn, drew comparisons to an army invasion.
"This starts the wave of what the new DPD is all about," Craig told the media invited to cover the afternoon event. The sweeps would continue on a near-monthly basis for almost two years.
The Colony Arms Apartments were notorious; police said they had received 600 calls from the building in the prior year alone. But while Craig said the raids aimed to curtail violence, 21 of the 30 people arrested at the complex were wanted on traffic warrants, a Metro Times investigation found — one, a woman in her 60s known as Ms. Peaches with an offense dating back some years, no longer even drove. Another — a mother eight months pregnant with a fourth child — had called police about problems in the building to no avail in the years leading up to the crackdown, according to her boyfriend. She was reportedly swept up for failing to appear in court in Macomb County for possessing less than a gram of marijuana, and required medical attention upon release. Neither she nor the eight others arrested that day for higher-level offenses were ever convicted, MT found in its follow-up. The department did seem to proffer an apology, however, reportedly coming to her door two days later with a $500 Target gift card.
As the police killings of Eric Garner, who was stopped for selling loose cigarettes in New York, and Mike Brown, who was stopped for jaywalking in Ferguson, Missouri, prompted police forces in larger, more progressive cities to move away from pursuing minor offenses, Craig was leaning into the practice, following months of consultation with the conservative Manhattan Institute for Policy Research, a leading proponent of so-called "broken windows" policing.
The theory posits that disorder sets the stage for more serious crimes. And so, Craig, with backing from a mayor and emergency financial manager intent on overhauling the city's image, elevated nuisance crimes to a top-five priority in an effort to bring about quality-of-life improvements and dispel what one official called a "mindset that, 'You can get away with it in Detroit.'"
The broader crackdown targeted scrappers, illegal dumpers, graffiti writers, and, more controversially, sex workers and business owners who failed to keep up appearances. Convenience-store owners were issued or threatened with citations for a lack of cleanliness, selling loose cigarettes, and, in at least one case, allowing a down-on-his-luck employee to live inside. Seemingly law-abiding citizens shouldered the burden, too; a Guardian article on the new approach featured a young Black entrepreneur who was forced to pay $1,500 in tickets and fees for riding a motorized tricycle and a Black teenage girl who said she was inexplicably searched for drugs as she walked home from school. The officers, both white, reportedly found her bag filled with books.
While "broken windows" is a facet of community policing notable for its focus on nuisance crimes that plague residents in poorer areas, experts say such broad-level enforcement can be a double-whammy, exposing those who already live in unsafe environments to crackdowns for fairly benign offenses. And in Detroit, where one in three people live in poverty, "that's a really intense burden, because a lot of that low-level stuff comes with fiscal penalties," said Jesse Jannetta, a senior policy fellow in the Justice Policy Center at the Urban Institute.
What's more, the strategy doesn't even promise less crime. Leading studies have found that difficult to measure, with potential benefits jeopardized by "damage to citizen perceptions of the legitimacy of police."
While crime fell during this period in Detroit, department statistics show, the reductions were only slightly better than those observed over the prior half-decade, and coincided with additional changes in the city's post-bankruptcy landscape. The department's stats would also eventually be called into question when those presented by Craig for 2016 showed a 5 percent decline in violent crime while those from the FBI showed a 16 percent increase.
Operation Restore Order, specifically, resulted in at least 1,200 arrests but did not lead to an appreciable uptick in prosecutions, the Wayne County Prosecutor's Office told Metro Times. And crime persisted at Colony Arms, according to an employee of the building's management company, who reportedly wrote to police months later that "The criminals here are out of control and the raid did NOTHING to stop them."
Still, Craig maintained the efforts succeeded as a deterrent, and residents who escaped penalty appeared to share this sentiment — their enthusiasm a testament to how well the new chief understood his audience. Recounting the first raid years later, he described "the image that stood out to me."
"Residents cheering," Craig told Detroit Public Television over flashing images of the hulking brick apartment complex. "One middle-aged woman came out, fell to her knees and looked to the sky and said 'thank God the Detroit police are here.' That's how you build a capital of trust," he said. Even a lawyer representing a man arrested at Colony Arms approved, telling MT, "You have to be able to show people you're knocking down doors."
Stiger, Craig's successor at Oscar Joel Bryant in L.A., said he wasn't surprised by Craig's reliance on these tactics, as they were the hallmarks of L.A. policing when Craig came up in the ranks. Though Stiger said L.A. has long abandoned the approach because "it ultimately turns into stop-and-frisk," he also wasn't surprised Detroiters seemed generally supportive.
"There's a misnomer that Black people are very progressive, but really Black people are very conservative, especially the more educated and more wealthy," said Stiger. "At the end of the day, there's not a huge backlash because the people with influence don't live in the socio-economically challenged areas where Black and brown people are disproportionately stopped, shot at, etc."
Two years into the effort in late 2015, Craig's approval ratings stood at 75 percent — 15 points higher than Mayor Mike Duggan's — and soon after, Duggan would designate Craig his deputy mayor.