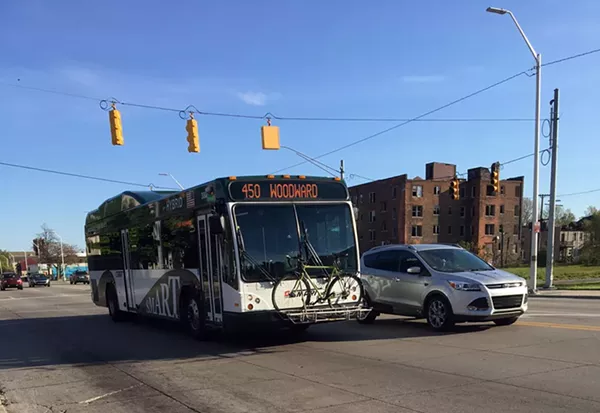 The buses of Detroit may have a bad reputation for not running well, but in my recent experience, they arrived on time and dropped me off on schedule. My biggest barrier to entry was figuring out the various options and how to pay for them. For many that have no other options for transportation, they make the bus system work for them and would consider my so-called barrier an immense privilege. Which in fact it was.
Which is to say, it wasn't until after I donated my car to charity that I even figured out how to buy a bus ticket. It always seemed inconvenient when my car was just sitting outside unused and I could just get around that way. But finally the idea of putting more money into fixing a clunky 2007 Ford Focus was prohibitive, and my crutch had to go. I mentally figured that not paying car insurance anymore would afford me a hefty bus fare and Uber budget.
I looked at Google Maps often to see what buses could take me to my destination, but I kept not getting on. Google Maps could tell me that the rate would be $1.50 per ride to take the bus and what time it would arrive and drop me off, but it provided no other info on how to pay.
The day after I donated the Focus, I resolved I would change that and learn this system, and put money into bus transit. But then a friend gave me a lift, it was pouring, and I took three Ubers after that. I knew the Uber system, I felt comfortable. The idea of taking the bus still made me feel uncomfortable somehow, despite the fact that over the years I had taken plenty of buses in cities like Washington, D.C., New York, and San Francisco. It's always easier to do what you already know.
On the third day after donating my car, I read the city of Detroit's website and learned that you can buy a monthly bus pass, but it only mentioned four locations that were recreation centers. Feeling annoyed, I took my query to Twitter and was told by a few people that they sell them at local CVS locations too, but I could not find that information online. I suspected that if the CVS stores did have them that there had to be something beside a rec center that would help me. I took a long walk from Midtown to the downtown Rosa Parks Transit hub.
Inside I found a large kiosk offering several types of bus ticket types and a short line of customers moving swiftly and efficiently to the window. Exactly what I needed.
I knew in advance that DDOT buses were different than SMART buses. But I wasn't sure what the options meant. If I did not buy the last option on the menu for the $49.50 "DDOT/SMART Regional Monthly Pass," would I only be able to take one type of bus, the DDOT? Was that fine, or would it be limiting?
I needed to research more, but I was already downtown, ready to buy. I selected the $10 DDOT card so I could at least get started. I started to pull out an AMEX but they only took Visa and Mastercard — yet again a thing I wish I had been able to find online. I paid for my card. Then I walked outside past rows of buses and took a mile and a half walk home. It was nice out and I had been putting this off long enough. One more day without learning the bus system would be fine.
Almost a week into carlessness I took a walk up to New Center, then veered over to Woodward and checked Google Maps. There was a 53 DDOT bus that ran every 10 minutes at this time of morning that went straight downtown. I found the bus stop in the parking lot of a gas station. Odd to be waiting for public transit on an actual site for car owners to fuel up. While waiting for the DDOT 53 bus several SMART buses zoomed past and I wondered if my strategy had been correct. Two minutes after the scheduled time I boarded the 53, swiped my card, fist-bumped the driver (he did this to everyone getting on), and moved toward the middle to stand, until a seat opened up after a few stops.
Once seated, the bus driver proudly announced to us that the "People Mover" would be opening soon and that it would be free for the first week. He meant the QLine. I wondered if the other bus riders also thought of the new QLine as the "People Mover" and if his word choice was a mistake or a clever joke.
It occurred to me that this bit of misinformation might keep others from riding the QLine, just as misinformation and missing information delayed me so long from buying a bus ticket. But I didn't correct him or speak up to the other riders; I wasn't eager to stick out as a new rider. For all I knew, the entire bus was made up of new riders, but it always feels like you are the only new person and everyone else is an expert. At one point everyone has to take a first ride, too.