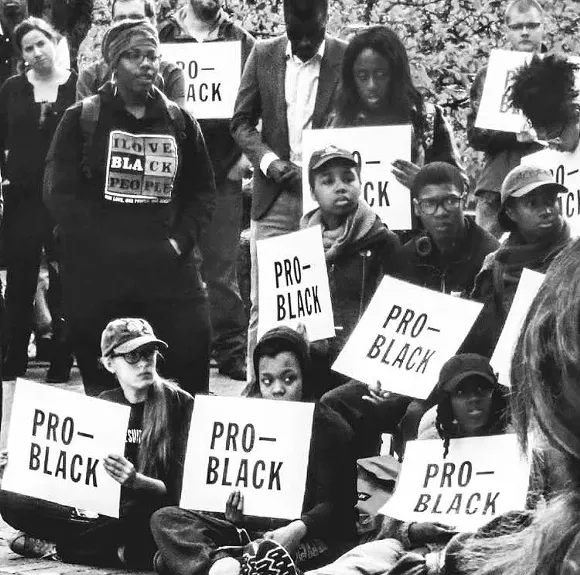 In late September, messages to Eastern University Michigan's black students appeared in spray paint on a campus wall: "Leave niggers" and "KKK" the graffiti read.
Since then, a person or persons left six more hate-filled messages on campus walls, and, in November, someone called a dormitory housing assistant to ask, "What's it like living with monkeys?"
Naturally, those in the black student body say they're feeling angry, frustrated, and unsafe, especially as the university failed to catch the perpetrator(s), or put a stop to the incidents. Still, the students responded reasonably with several peaceful protests and shows of solidarity at an EMU football game and elsewhere on campus.
However, in a surprising turn of events, the university is now punishing the students for protesting. So far, EMU's administration handed down reprimands to 12 black students, and there's likely more to come.
As many in and around the campus community are pointing out, EMU's mostly white leadership is punishing black victims.
And that part of it is only generating more anger, hurt, and fear. The move also caught the attention of the American Civil Liberties Union, while faculty members supporting the students label the response "wrongheaded" and "baffling." Meanwhile, the whole situation is turning into a slow-burning PR mess for a university increasing its minority enrollment.
So why punish students for peacefully protesting?
There are two answers. One from EMU, which is simplistic. It has repeatedly offered some variation of "anyone who violates the student code of conduct must be punished."
The second answer, from students and their supporters, is more complex. It factors in issues of race, class, and political ideology.
All but one of the eight regents on the EMU Board of Regents are white, Republican appointees of Gov. Rick Snyder, and those directly handing down the punishments are white administrators. EMU's largely white leadership simply doesn't understand, appreciate, or comprehend the depth and complexity of the racially charged situation, says Michael Wood, an education student who received a formal reprimand for his participation in a protest. That, more than the code of conduct, is what's behind the ham-fisted response.
"I 100 percent believe that this situation would have been resolved better, more quickly, and handled differently if there was diversity [in EMU's leadership]," Wood tells MT.
Students who spoke with the MT don't deny they violated the code during a sit-in at the EMU Student Center. Officials say around 200 students gathered there on the evening of Nov. 1, and around 50 remained inside until 6 a.m. Nov. 2 — four hours after the center closed.
Those who remained after 2 a.m. were warned of possible consequences by administration officials who watched and videotaped the group. But the students stayed, did homework, danced, and talked.
A week later, EMU notified students that they faced expulsion for the protests, though it only handed down deferred suspensions and formal reprimands. Officials stress the punishments are not disrupting academic careers.
Still, not great optics. And you gotta guess the bigots who left the graffiti are enjoying the show.
As EMU professor and Faculty Senate President Judith Kullberg told MLive: "There's (graffiti) telling black students to leave. Then, similarly, administrators are going to the student center during the sit-in and threatening to expel students. There's something really wrong with how they're handling the situation."
And race isn't the only issue. Remember when Michigan Republicans passed a bill last month that imposes harsh punishments for "mass picketing?"
EMU spokesman Geoff Larcom strongly denies that race, class, and ideology are factors, and stresses that regents don't have any direct involvement in the process. He also points out that two black administrators have met with students. In a conversation with MT, one denied that anything other than the student code of conduct is influencing EMU's actions.
Calvin Phillips, vice president for student affairs, questioned whether protesters' assessments represent the entire student body: "These students want to put race and ethnicity in it. That's their spin on how they perceive us, and it's unfortunate," he says.
However, Wood questions the sincerity of EMU trotting out one of its few black administrators for students and the media. Students facing discipline feel white administrators make the real decisions, and white administrators are issuing the punishments.
EMU President James Smith's and regents' absence also speaks volumes. The regents might not bang the gavel, but their silence is viewed as a statement of their support for administrations' policies.
Moreover, one regent met multiple times with black students: James Stapleton, a black man appointed by former Democratic Gov. Jennifer Granholm. In a Dec. 14 letter to President Smith, Stapleton wrote, "There is a problem ... with this issue and it predates you, me, and the incidents of this past fall."
Wood says EMU wouldn't be employing "bully tactics" were there more like Stapleton in EMU's leadership.
Those who have faced threats over their skin color are more understanding of the fear and anger that drives victims to hold sit-ins, and maybe even violate minor student codes in the process. White, wealthy Snyder allies don't have that experience. And Wood says that's an issue at a school with minorities often from poorer communities making up roughly 25 percent of the student body. Students have been demanding the school address that since 2015.
"When you have this diverse of a student body, you have to have diverse leadership that can, in these situations, understand and reflect on what's going on, and resonate with the students," he says.
(Note: Rick Snyder announced on Tuesday that he would be be appointing two African-Americans to the EMU Board of Regents. One is filling Stapleton's seat. That means two of eight regents will be African-American when their terms start.)