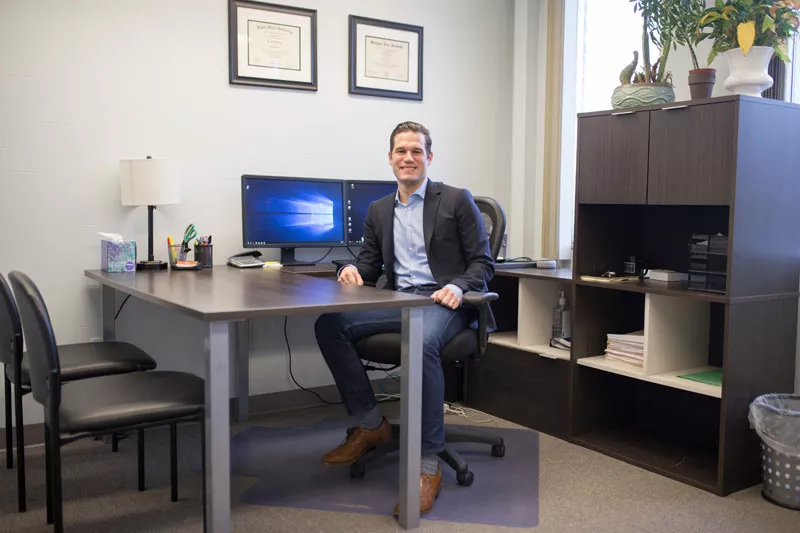 Drew Millitello didn't start out his bankruptcy law career by filing cases on behalf of consumers who went broke. After graduating law school in 2009, with the economy in tatters, he initially worked on behalf of creditors looking to recoup whatever they could from bankrupt companies.
"Which is the opposite side of what I do now," he says.
A few years on, the caseload from representing clients of auto lenders and the county treasurer's office took a toll.
"When you're sitting behind a desk and you're signing motions you don't really see the firsthand accounts of it," Millitello says. "But when you are in front of the judge... that's when you begin to see the human aspect of it."
"That's what drew me back to the other side," he says. Millitello linked up with a few friends from high school and launched a consumer debtor bankruptcy firm called Detroit Lawyers, PLLC.
Shortly thereafter, the firm put up a brief blog post about Credit Acceptance for consumers who'd faced a repossession, a garnishment, or simply dealt with a high interest car loan for a vehicle that broke down. Immediately, Millitello says, potential clients started reaching out.
"It drives a lot of our clients into bankruptcy," Millitello says of Credit Acceptance collection cases. Today, at least 25 percent of the firm's active garnishment cases deal with Credit Acceptance, he says.
"Their whole business model is based on this," he says.
A number of Millitello's case files offer insight into the characteristics of loans consumers who wind up in bankruptcy.
There's a 2001 Ford Expedition, financed with a total $11,000 loan just last year, at 22.99 percent. A 2005 Mercury went to a Detroit resident with a $16,000 loan carrying a 24.99 percent interest rate. A 2009 Ford Escape went to another resident, also for a $16,000 loan at an interest rate of 23.99 percent.
(Keep in mind those numbers reflect the total cost of the loan including Credit Acceptance's finance charges, not the base price for the car itself, which speaks to how egregious these financing offers can be.)
Low-credit buyers have few options to turn, and that's why they're stuck with loans that carry sky-high interest rates. If they fall behind, and their car gets repossessed, the effect can bury them, especially if Credit Acceptance takes them to court, Millitello says.
"When you're being garnished, the debt puts you in the corner," he says. "They have families to support. Twenty-five percent of their wages, they cannot survive."
Denita Anderson knows how hard it can be. The 24-year-old bought a 2005 Chevy Impala last year with a loan from Credit Acceptance, at 22.99 percent, so she would pay $15,300 in total over the course of five years.
Anderson bought into the Credit Acceptance motto. She'd had a car repossessed before, and the lender gave her a second chance at redeeming her credit score. Working for a janitorial service in metro Detroit, she needed a car, too. Her grandmother co-signed on the loan.
The Impala didn't last long, she says. It got repossessed twice, the second time voluntarily because the car broke down on I-94 and repairs were unsuccessful afterward.
Even after voluntarily repossessing her car, Anderson continued making payments. Her work shifts were sporadic at the time, so if she couldn't pay in full for a month, she immediately called the lender and worked out an arrangement. Still, she says she vowed to pay something — even for a car she no longer even had.
That apparently wasn't enough. In December 2017, she received a letter in the mail notifying her that Credit Acceptance had secured a court order to have her wages garnished. The company started having nearly 25 percent of her wages docked per check.
"I was paying them," she says. "Why even garnish me if I'm still giving you the money? I'm not even driving the vehicle."
After talking it over with her mother, she decided to declare bankruptcy and reached out to Millitello.
"I was like, 'I don't want to file bankruptcy this young,'" she says. "But at the same time I can't have them garnishing my check."
In the cases that are still open, at least 171 defendants have filed for bankruptcy. The 36th district court has received 1,696 orders for bankruptcy stays from defendants in these cases.
Following the Great Recession, the rate of auto delinquencies continued to increase, as lenders loosened the purse strings for low-credit buyers to access credit for a car. Sales increased to new heights, but delinquency rates have jumped in tandem, hitting a record 6.3 million people 90 days or more behind on their auto loan — an increase of 400,000 car buyers from a year before.
Mayer, the professor from Southern Methodist University, says he and his colleagues were surprised by the lack of research on the consequences of repossessions for borrowers.
Using credit reports, court records, and demographic data, Mayer and his colleagues arrived at a pointed conclusion: In states with laws that make it easier for cars to be repossessed, subprime borrowers are more likely to get approved for a loan.
"Increased credit access for borrowers is essentially the 'bright side' of making auto repossession easy for lenders," Mayer says.
Michigan didn't meet all the criteria for the researchers' definition of a state that makes repossessions "easy," but that's only because it requires a repo agent to obtain a license. It's smooth-sailing otherwise. The study's findings crystallized just how much of an impact repossessions can have on buyers who wind up defaulting on their loan payments: Approval rates on credit applications are reduced for two to three years. The same for mortgage credit, by up to five years.
Making auto repossession easy for lenders, Mayer says, "takes away some of their incentive to screen borrowers and only lend to those who can really afford the loan."
"This puts the onus on borrowers to understand whether they will benefit from the loan and be able to repay it," he says. "Weighing the benefits of an auto loan against the potential costs associated with default is a challenging task for many subprime borrowers. This problem is exacerbated by the fact that prospective borrowers often don't know the full scope of the consequences of auto repossessions."
If dealers aren't aiding buyers in finding a car that fits their budget, that compounds an already difficult situation. If their bill gets sent to collections, the effects can be severe. And a study earlier this year found more and more consumers are trying to stick it out and deal with debt collectors instead of turning to a bankruptcy court for relief.
Lawless, the University of Illinois law professor who co-authored the study, calls the period when someone's struggling before filing bankruptcy the financial "sweatbox." Those who endure more than two years of this, he says, are called the "long strugglers." Their time in the sweatbox is "particularly damaging," according to the study.
"During their years in the sweatbox, long strugglers deal with persistent collection calls, go without health care, food, and utilities, lose homes and other property, and yet remain ashamed of needing to file," the study said. "For these people in particular, though, time in the sweatbox undermines their ability to realize bankruptcy's 'fresh start.'"
There's one feature that stands out the most among this particular crowd, Lawless says. "They're most likely to have a debt collection filed right before bankruptcy," he said.
"Obviously," he says, "nobody wants to file bankruptcy. Nobody wants to go to the hospital either, but if you're sick or need an operation, you need to go to the hospital."
One of the reasons debt collection suits have become more commonplace in recent years is partly due to the so-called information revolution, he says.
"It's just easier to bring these lawsuits," Lawless explains. "It's easier to find the people, it's easier to track the debt, it's easier to keep the records, it's easier to generate the paperwork that you need to process these lawsuits."
More than 75 percent of consumers who responded to the researchers' survey said they agreed to some extent that "pressure from debt collectors" contributed to their findings. At the same time, over the last decade, the study found that in-court debt collection has increased.
"No one's trying to argue there should be an easy way to walk away from your obligations," Lawless says. "But at some point you just can't pay the debt."


The standard line from the subprime lending world is that low-credit buyers receive financing with high-interest rates to compensate for the purported risk they pose. But the higher the rate, the higher chance of default, and so critics have taken to assert the system is wholly designed to set up consumers for failure.
Now, Americans hold more than $1.2 trillion in auto loan debt, and with delinquencies at a high rate, critics point to the lending practices and loan terms themselves as the main driver of defaults.
"While debt collection is an important way creditors recoup their losses, when a creditor such as Credit Acceptance relies on debt collection for such a significant portion of its loans, that is an indication that there are problems with the lending practices and loan terms," Stifler, of the Center for Responsible Lending, says. "When borrowers are set up to fail by the unaffordable terms of a car loan, of course we will see many folks who are already struggling unable to keep up with the payments."
Credit Acceptance's debt collection efforts in Michigan ran into a roadblock in 2005, when a local metro Detroit court returned "numerous" garnishment requests "loaded with apparent mistakes to the attorney who had filed them" on behalf of the lender, according to Human Rights Watch.
"He filed 60 or 70 garnishment requests in a single day," William Richards, former chief judge of the 46th District Court in the City of Southfield, told the group. "There were thousands of dollars' worth of errors."
Richards' clerk asked the lender's attorney to correct errors and provide additional supporting documentation to support their requests. Instead of doing just that, Credit Acceptance sued the court, arguing the clerk had no right to request additional documentation.
When the case eventually made its way to the Michigan Supreme Court, the state's highest-ranking judges ultimately sided with Credit Acceptance. In an opinion, the court noted that, "We recognize that [the district court] has an understandable interest in the rights of judgment debtors and in protecting them from writs of garnishment that are baseless or inflated."
"Nonetheless," the judges went on, "the court rules do not allow the imposition of additional filing requirements on judgment creditors seeking writs of garnishment."
Richards, who couldn't be reached for comment, was unequivocal in explaining the impact of the decision at the time.
"We've got to have some role here," he told Human Rights Watch. "We can't just be rubber stamps." But the ruling effectively stymied any efforts to apply scrutiny to the lender's garnishment requests.
That might've been an especially tough pill to swallow for Richards, since Credit Acceptance's main attorney got caught up in a scandal just a few years before. In 2005, prosecutors indicted Howard Alan Katz on 308 counts of criminal contempt of court for falsifying hundreds of court records. Katz eventually struck a "no contest" plea deal on 136 of the counts that required him to spend six months under house arrest.
Katz, according to a news report at the time, filed fraudulent court documents that stated he'd notified a person when to appear in court, but in fact, he hadn't.
When the accused defendant never showed up, Katz "sought and often got a default judgment from a judge," the report said, "allowing him to collect the past-due money by garnisheeing the person's wages." Katz even had vehicles seized belonging to defendants before they even knew they'd been sued.
Katz, who couldn't be reached for comment, denied any knowledge of the alleged wrongdoing and blamed the issue on a hired gun failing to properly attempt to serve the defendants with a suit.
Following Howard Katz's indictment, records show a local attorney named Jason Michael Katz started routinely representing the lender in debt collection cases. Jason Michael Katz deferred comment to Credit Acceptance and wouldn't say whether he's related to the lender's former attorney.
"I'm not going to answer any more questions about this," he says.