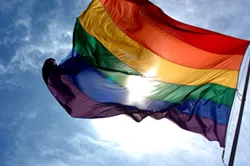 Amid the greenery of Detroit's Palmer Park, a candlelight vigil will take place tonight to honor and remember LGBTQ individuals who have lost their lives due to inequality and violence against them and their community.
The vigil, which is from 6 p.m. to 8 p.m. in Palmer Park is the kickoff to Hotter Than July, the second oldest Black LGBTQ Pride event in Detroit. The week of gatherings, celebrations, and parties is a time for the Detroit LGTBQ community and their friends and families to reflect and shed light on the social injustices they often face, while also celebrating the love and solidarity they share.
Hotter Than July, put on by a group called LGBT Detroit, is not just a week for entertainment and relaxing, but to give LGBTQ people a sense of acceptance, comfort, and relief during a time in the United States when they face oppression, violence, and inequality.
"We all look forward to this time of the year where the community can come together, especially where many of us are impacted by the events currently dominating the news channels," says Curtis Lipscomb, executive director of LGBT Detroit. "Hotter Than July is time for us to remember, gather, have tough conversations, provide love and support, and strategize collectively how we [move] forward toward progress."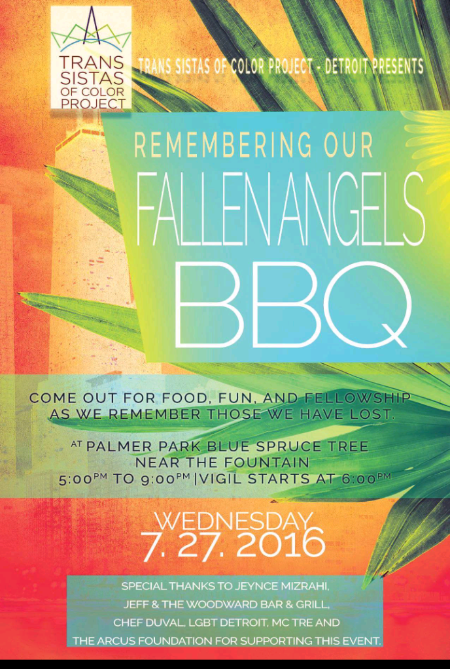 In addition to today's vigil, there will be another one hosted in Palmer Park Wednesday, by the local organization Trans Sistas of Color Project. This second vigil, which runs from 5 p.m. to 9 p.m., will specifically focus on the lives of trans women of color that have been lost to violence in recent years. As we reported in our January feature
The Throwaways,
since 2011 seven trans women of color have been killed in the city.
These two events, are just the start of many that will occur between now and Sunday, July 31.
Other events include a free fine arts reception at the Carr Center, a free staging of
Before it Hits Home,
a play by Cheryl West that centers around the hardships LGBTQ people often face, the Annual Gathering on LGBTQ issues at the Ecumenical Theological Seminary, which pinpoints areas of conflict in regards to LGBTQ communities and the national government as well as local issues in the LGBTQ community, a free Palmer Park picnic hosted by House of Herrera and The Testing Zone, and a worship service at the Ecumenical Theological Seminary and Sunday Brunch.
LGBT Detroit also provides more support to LGBTQ communities throughout the year with several other events such as Talk Tuesday and LGBT Detroit Leadership Academy.
Hotter Than July is a great time to get involved in the local community and support city's LGBTQ residents.
For more info click
here
.