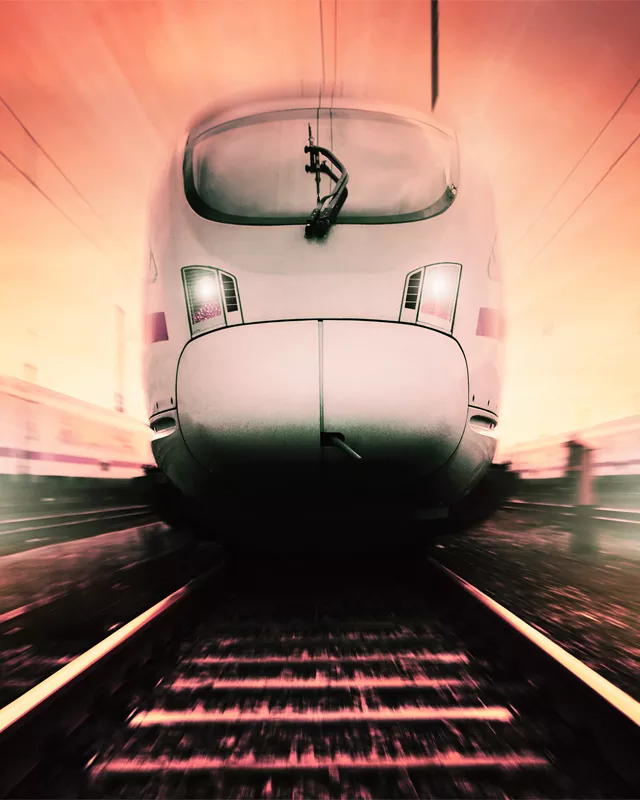 When Ken Weikal made a suggestion at a Detroit community meeting about what to do with the Woodward Light Rail project planned for Detroit, he got applause.
"The best thing to do is to get the train into Ferndale," Weikal said.
The landscape architect, who also runs Growtown, a nonprofit that helps neighborhoods organize, says while the Detroit transportation system would be innovative, its extension beyond the city borders is what the region needs.
"That'll be the show-stopper," Weikal said.
The current plans for the Woodward Light Rail project show the northern terminus of the tracks at Eight Mile Road, if and when the line is built. The first stretch — from Jefferson Avenue to New Center — could break ground as early as this fall. The current best-case scenario for the 6-mile second stretch, if funding for construction and operation is secured, is completion in about five years.
But until southeast Michigan has a regional transit authority capable of planning and funding a railway that continues across city and county borders, those tracks won't cross Eight Mile Road into Ferndale. Forming such an authority would take an act of the Legislature and, so far, no bills have been introduced this session.
Still, the uncertainty of Detroit's stretch of rail and the lack of a regional group haven't stopped an optimistic group of Oakland County elected officials, planners and transit advocates from getting ready for a light rail line.
Organized by the Woodward Avenue Action Association, a transit-oriented development task force has been meeting for six months. Issues of zoning along the corridor, funding, public education and regional cooperation are on the agenda for the next several months.
The group envisions what they call a "linear city," pockets of commercial development linked by the rail line and surrounded by mixed-use developments and dense residential housing.
"It's a vision of some continuity where each of the communities still retain their own unique charm, their own unique characteristics," says Steve Baker, City Council member in Berkley and task force member. "There's a kind of energy that exists north of Eight Mile. What we haven't had is a way to focus that energy."
The task force members come from Ferndale, Huntington Woods, Berkley, Royal Oak and Birmingham, five of the first six communities along Woodward Avenue immediately north of Detroit. Pleasant Ridge, the sixth community, which has a relatively small frontage on Woodward, supports better mass transit — the council is working on an official resolution pledging that — but isn't officially on the task force, says city councilmember Chuck Kellett.
Part of the reason was that, a few years ago, Pleasant Ridge scaled back on budget items like association memberships to save money. Another reason was the lack of action.
"At the point when we left the Woodward Avenue Action Association, we didn't see any progress getting made," Kellett says. "It's very likely we could get back on board. There's no philosophical problem and there's certainly no personality problem. We just had to allocate our resources where they were doing the most good."
Still, the task force members have been following Detroit's rail planning, which is being done, in part, by M1 Rail, the nonprofit corporation that's publicly pledged $125 million in private funding. The corporation is working with Detroit officials and the Michigan Department of Transportation to get the first 3.4 miles under way, running from Jefferson Avenue to New Center. A federal stimulus grant of $25 million also is going toward the project.
The second phase — the New Center to Eight Mile Road stretch — is being planned, but funding has not been secured. The city has begun the process of applying for money from "New Starts," a U.S. Department of Transportation program, and that has included some engineering schematics and an environmental impact statement released last month.
"We are so supportive of what they're doing down there. We know they are so much further along than where we are. We want to play catch-up with the goal to connect," says Melanie Piana, a Ferndale City Council member who is part of the WA3 task force. "It doesn't happen overnight, but I feel really good about the task force's intentions and having a shared vision for our future."
Piana, a Michigan native, lived in Europe for several months as a college student, riding public transportation regularly. "I learned to do my shopping, my laundry and put it all on my bike and use the train," she says. "That's the perspective and the philosophy I have in terms of bringing transit to our area. I've experienced it and I've lived it."
Piana's full time job is at the Michigan Suburbs Alliance, a voluntary organization with 31 suburbs as members. Mass transit and regionalism have become more important — and probable — issues for the group to address, she says.
"We're thinking differently. We're breaking down the silos. We're saying housing, jobs and transit are not separate issues," Piana says.
As the light rail project is touted for its economic development opportunities, the variation in zoning policies is one of the main topics for the task force. Some suburbs allow the type of mixed-use development that often surrounds transit stations — retail space on the street level, offices above that, and private residences on upper floors, for example.
Others have stricter policies for what can be built near the possible train route. For example, the half-mile of Pleasant Ridge that runs along Woodward is a commercial district, says City Manager Sherry Ball. "But in our master plan we do allow for developing the idea of live-and-work kinds of buildings," she says. "Pleasant Ridge has said whatever happens up to Eight Mile, we want it to continue up the corridor."
Since he was elected in November, State Rep. Jim Townsend (D-Royal Oak) has met regularly with task force members and is hoping to, eventually, foster their efforts in Lansing.
"I think the key pieces are local leaders getting engaged and building support among the people who pay attention to local government affairs," he says. "It's the right time to be having the conversation."