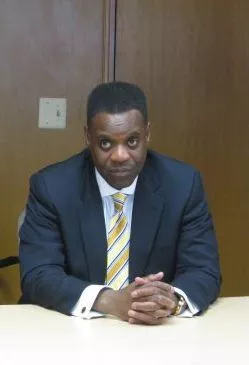 There's now little doubt that Detroit is headed for bankruptcy. Emergency Manager Kevyn Orr signaled as much last week when he announced the city was not going to make its debt service payments anymore and promptly defaulted on a $39.7 million payment due for debt service on money borrowed to fund pension obligations.
Technically, the city could have come up with the money, but Orr announced he has decided to stop making all payments on "unsecured" debt, meaning debt where there is nothing the creditors can haul away, as, for example, they'll do with my station wagon if I don't keep making the monthly payments.
Orr says he'll put that money into shoring up city services, principally public safety and "blight remediation," which probably means tearing down more hopeless buildings.
Stopping payment is also a signal to the city's creditors that they ought to make a deal. If there is any remaining hope of the city technically avoiding bankruptcy, it probably lies in Orr's ability to negotiate new and better terms with those who hold billions of dollars in Detroit general obligation bonds.
Indeed, the only way I can see the city avoiding bankruptcy is for all parties to agree on a settlement that looks very much like bankruptcy, meaning something where creditors get mere pennies on the dollar and the city starts over.
Without any doubt, city employees and retirees will take the biggest hit. Pensions are going to be cut or eliminated, no matter how all this plays out. Retirees who thought they had lifetime health care will be scrambling to sign up for Medicare, or be suddenly thanking President Obama for the ability to buy private insurance in the health care marketplace.
To his credit, Kevyn Orr isn't trying to sugarcoat any of this. For many Detroit retirees, life indeed will be harder. But he says if his plan works out, life for residents should be better before very long. In some ways, it can scarcely get worse.
We currently have a city that doesn't work, where the electrical grid is falling apart, where the cops can take nearly an hour to come, where only a third of the ambulances even run.
One of my fellow professors was attacked in her own yard by a pit bull. The city animal control officer came — 11 days later.
According to the report the emergency manager presented June 14 to the city's creditors, Detroit's real debt is far higher than even the worst estimates; probably as much as $20 billion.
What's the silver lining? That somebody has finally recognized the problem and is doing something about it.
There may be those who still resent and blame Kevyn Orr. Taking it further, you could make a better case for rounding up and shooting everyone responsible for municipal finance in Detroit over the last half-century. But that wouldn't solve anything.
This may be trivial, but I find it subtly encouraging that lately Orr, who is from Florida and the Washington, D.C. suburbs, has been saying "we" and "us" in talking about Detroit.
What he wants, according to a Free Press interview, is "to get to a point where rational people want to engage in rational behavior," and where rational behavior could be moving to Detroit, once it is seen as "an environment with a future."
That's not the case now, he openly said.
"Imagine what it's like living next to a house that's burned out with … a tree growing out of it? Why would anyone want to move next door to that?"
Why indeed. Well, it is clear that the emergency manager can cut down on the number of houses like that, and maybe get more cops on the streets, at least for a while.
But the one question nobody is asking is this: How do we get Detroiters to take more pride, in their neighborhoods and their homes? Last week I saw a woman walking down Warren, eating out of a McDonald's bag. When she finished her fries, she dropped the little bag on the sidewalk and just kept walking. Poverty is one reason so many neighborhoods look as they do — but not the only reason!
Detroiters, tons of 'em, have to feel they have a stake at building up the city, literally from the grassroots of the city's many overgrown vacant lots. Without that, even if police and fire and schools can somehow be fixed, it's going to be hard to see how living in the D can ever be a rational choice again.
Two Cheers for Detroit's Dailies
LONGTIME READERS OF THIS column know I have never been reluctant to bash Detroit's two daily newspapers when I thought they deserved it. But in fairness, I have to say that both have done a remarkably thorough job of covering Detroit's economic crisis, especially perhaps the Free Press.
True, the headlines ⎯ and sometimes the business columnists ⎯ are way too chirpy. The headline in the Free Press last Sunday ought to have embarrassed even a writer of chamber of commerce pamphlets: (Recovery Road Leads To More Nimble City: Imagination, Focus Will Make Detroit Work Again.)
But the paper in recent days has done a very good job of laying out the economic realities and summarizing what Kevyn Orr told creditors, in a way readers of wide-ranging educational backgrounds could easily understand.
On the editorial pages, Stephen Henderson and Nancy Kaffer have done a good job outlining what's at stake and defining a vision, though they may want to rethink the too-cute device of reprinting their back-and-forth tweets.
The Detroit News traditionally has provided more comprehensive coverage, and Daniel Howes' columns ought to be required reading ⎯ even if you disagree with his conclusions.
And while Nolan Finley has long been the columnist liberals love to hate, he did a public service by questioning why Kwame Kenyatta should be still pulling down a City Council salary if he is healthy and no longer shows up for work.
Kenyatta told him, essentially, that he doesn't feel like working since the emergency manager now has the power. Fine. So quit. Today. People taking a paycheck without doing the job are a big part of the reason Detroit got in the mess we're in.
The Duggan Debacle
SHOULD MIKE DUGGAN BE on the ballot? For months, it has looked like Detroit's mayoral race would come down to a runoff between former Detroit Medical Center czar Mike Duggan vs. Wayne County Sheriff Benny Napoleon.
Then, last week, Wayne County Circuit Judge Lita Popke ruled that Duggan should be removed from the ballot. The law says you have to be a registered voter for at least a year before you file to run.
Duggan, who clearly moved to Detroit to run for mayor, registered to vote April 16, 2012. The filing deadline was May 14, so he figured he was covered. However, while he could have waited, he turned his signatures in April 2. So the judge, at least temporarily, bounced him off the ballot.
You don't have to be a Duggan fan to know this was silly and arbitrary. Why penalize him for a technical glitch that made the lives of the canvassers easier? If this was a problem, they could have just have put off certifying them till May 1.
The Michigan Supreme Court should put him back on the ballot and let Detroiters decide. By the way, if you fear, as one person told me, this was a conspiracy by a black judge to keep a white guy from becoming mayor, think again.
Judge Popke is a white woman and almost certainly a Republican, first appointed to the bench by G.O.P. Gov. John Engler.
Jack Lessenberry opines weekly for Metro Times. Send comments to [email protected].