Democratic presidential candidate Hillary Clinton is returning to Detroit Monday to speak at a labor convention at Cobo Center.
According to the
Detroit News
, the former Secretary of State is expected to speak at 1 p.m. in front of thousands of union members attending the Service Employees International Union (SEIU) convention, where, according
to a press release from her campaign, she will discuss "plans to raise incomes for working families and break down all the barriers holding Americans back."
While the union is all for Clinton — officially endorsing her in November — Michigan remains a relatively fragile state. In March, she memorably lost the state's Democratic primary to Sen. Bernie Sanders, in a race that many national polls incorrectly called in her favor.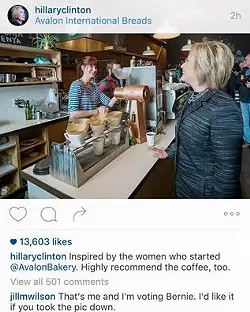 For a more local memory of Clinton's experience in Michigan, we present this somewhat comical meme from her visit in March right before the primary election. While visiting Astro Coffee in Corktown, Clinton (or more likely a social media intern) snapped a pic and added it to Instagram. The post called the shop Avalon — which it's not — and praised it for being owned by two women — which it is also not. While the image could have easily been brushed off as a goof, it became meme worthy after one of Astro's employees commented on the post. While she didn't correct the errors, she did make a memorable statement. "That's me and I'm voting for Bernie. I'd like it if you took the pic down," wrote the employee.
We have a feeling Clinton will get a much warmer reception at the SEIU gathering.