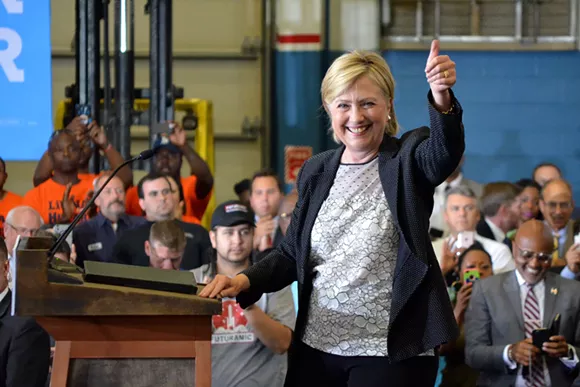 Before Hillary Clinton's speech in Warren on Thursday, former Michigan Gov. Jim Blanchard said the political shifts Macomb County is famous for could tip left in 2016.


"It's goodbye Reagan Democrats, hello Hillary Republicans," Blanchard said before Clinton's appearance at Futuramic Tool and Engineering, an aerospace and defense supplier.


The Democratic presidential nominee's speech — which saw her laying out economic proposals such as refinancing student debt, blocking the Trans-Pacific Partnership, and limiting childcare costs to 10 percent of income — read as a riposte to Donald Trump's Monday visit to Detroit.

Clinton said that her policies would create 10 million jobs, while Trump would cause 3.4 million positions to be lost.


"I know my opponent in the election was here in Michigan about a week ago and it was like he was in a different place," Clinton said. "When he visited Detroit on Monday, he talked only of failure, poverty, and crime. He is missing so much about what makes Michigan great."


More than a dozen protesters were removed from Trump's Cobo Center speech. There were no interruptions while Clinton spoke Thursday, and about two dozen protesters outside.

A @realDonaldTrump supporter who was protesting outside of @HillaryClinton's speech in Warren today: pic.twitter.com/UvzEuUMGpo

— Dustin Blitchok (@SincerelyDustin) August 11, 2016



While Trump's Detroit speech was viewed as comparatively tamer than his more inflammatory rhetoric, it was almost immediately overshadowed by his comment Tuesday that "Second Amendment" people could stop Clinton. The quote, which many interpreted as a threat of violence or as suggestive of an assassination, led the Secret Service to contact Trump's campaign, according to CNN.



The U.S. needs "leadership that rises above personal attacks and name-calling, not [that] revels in it," Clinton said in Warren. "I just do not think insults and bullying are how we are to get things done. I don't think that's the appropriate approach for us."



Clinton whacked Trump's economic policy ideas, saying that the "Trump loophole" would allow him to pay "less than half the current tax rate on income" for many of his companies. "He would pay a lower rate than millions of middle-class families," she said.



The GOP nominee, Clinton said, has "made a career out of stiffing small businesses from Atlantic City to Las Vegas." She used her father, Hugh Rodham, who worked as a printer, as an example of a small businessman to contrast with Trump.



"I cannot imagine what would have happened to my father and his business if he had gotten a contract from Trump," she said.



John Morris, a 56-year-old fabricator at the factory who lives in Warren, was one of about a dozen of Futuramic employees seated on a riser behind Clinton's podium.



"I think I'm the only one on stage here who voted for her, but don't say that too loud," Morris said with a chuckle.



Clinton name-checked economic development in Detroit's Midtown and Eastern Market neighborhoods on Thursday, and said that, if she were elected, her administration would support affordable housing in Flint and Detroit — as well as fix "schools and failing water systems."



Jack Giasone, a 47-year-old weld tech at Futuramic who lives in Clinton Township, said he's still "on the fence" on whether to vote for Clinton and Trump, and said before the Democrat's speech that he'd be listening closely.



"That's how you can make a qualified decision."