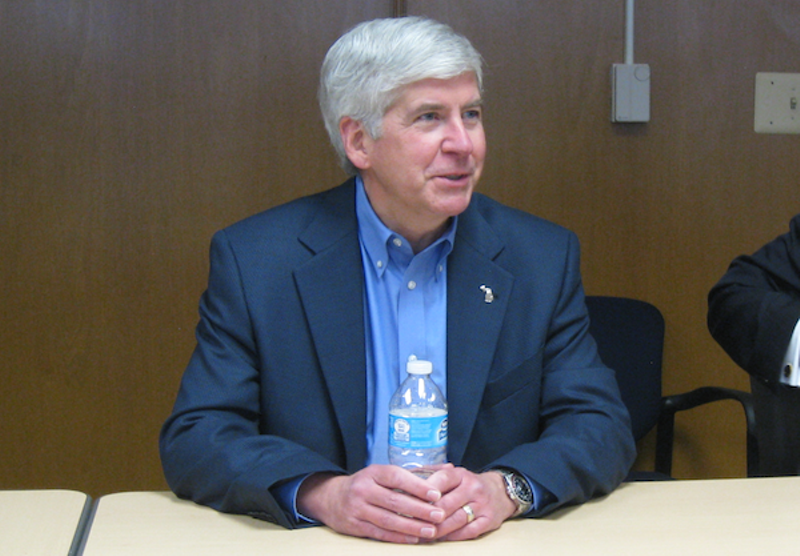 Now here's something Michigan ought to consider adding to kids'
social studies
curriculum.
Gov. Rick Snyder not only poisoned kids during his time running the state like a business — he also quietly stole from Michigan residents while letting his corporate brethren ride for cheap.
A new
Free Press
report
published to coincide with the signing of Snyder's last of eight budgets highlights the massive changes Snyder made to how things are funded in Michigan. Now, we knew Snyder was allowing corporations to pay less in taxes — but in their totality, the numbers are staggering.
The
Free Press
reports that as of last year, corporate taxes had SHRUNK BY FIFTY-SEVEN PERCENT since Snyder took office in 2011, which equals ONE POINT TWO BILLION DOLLARS. Corporate taxes made up TWELVE PERCENT of state general fund revenues in 2011. Last year they made up SIX PERCENT.
PERSONAL INCOME TAX revenues — read, your money — GREW BY THIRTY-TWO PERCENT, which equals TWO POINT FIVE BILLION DOLLARS. They accounted for FORTY-SEVEN percent of the state's general fund in 2011 and FIFTY-THREE PERCENT of it in 2017.
Some (Snyder, businesses) would argue that shifting the tax burden away from corporations has helped Michigan by allowing it to attract business and jobs (read — join in the sick race to the bottom we've seen play out in highly publicized corporate sweepstakes contests like that of Amazon's second headquarters and Foxconn's U.S. plant.)
Others would argue that the state would have more money to fund much-needed improvements if it made corporations pay their fair share. They'd perhaps highlight the longterm consequences of things like
crappy schools
and
roads
. For example, going to a shitty school reduces your chances of achieving success. Driving over pot holes means you need to spend more money on car repairs and buy cars more frequently.
There's also the fact that major businesses are lured by more than just a favorable tax climate — they also sometimes want to give their employees a decent place to live with good schools and robust public transit. Some of those businesses also require a candidate pool with lots of highly educated people, which we do not have. (Amazon, Amazon, Amazon).
You can learn more about what Snyder has done to this state over at the
Freep
. There you will also see more of the business community's take on why this is great, because, after all, what is journalism if not the balancing of
all
viewpoints — including those of the beneficiaries of our rigged system.
Stay on top of Detroit news and views. Sign up for our weekly issue newsletter delivered each Wednesday.