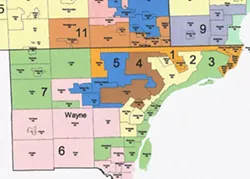 The group Voters Not Politicians is still working to gather the signatures needed to get a proposal on the November 2018 ballot to end gerrymandering of electoral districts.
The non-partisan, nonprofit group is proposing amending Michigan's state constitution to establish a 13-member citizens' commission made up of five independent voters, plus four each from the two major parties.
What is gerrymandering and why is it a problem? Read our previous reports
here
and
here
.
Below is the list of locations where you can find Voters Not Politicians volunteers collecting signatures in the coming days.
Wednesday Nov. 22
Ann Arbor: Dog-O-Mat
Battle Creek Books
Battle Creek: IBEW Local 445
Chelsea: New Chelsea Market
Grand Rapids: Presto Print
Lansing: Triple Goddess Bookstore
Marcellus News storefront at Moorman Printing
Novi: Mom and Baby Shop
Saginaw: Bradley's Bistro
Friday, Nov. 24
Battle Creek Books
Chelsea: New Chelsea Market
Lansing: Triple Goddess Bookstore
Marquette: Winter OutBack at Upper Peninsula Masonic Center
Novi: Mom and Baby Shop
Saginaw: Bradley's Bistro
Saturday, Nov. 25
Ann Arbor: Dog-O-Mat
Ann Arbor: Jeff Daniels concert at Michigan Theater
Battle Creek Books
Chelsea: New Chelsea Market
Lansing: Triple Goddess Bookstore
Marquette: Winter OutBack at Upper Peninsula Masonic Center
Milford: Holiday Fun Run and Parade at Downtown Milford (Main & Commerce)
Novi: Mom and Baby Shop
Saginaw: Bradley's Bistro
Holland: Kerstmarkt at Holland Farmers Market
Garden City: Santaland Parade along Middlebelt Road
Ann Arbor: Michigan vs. Ohio State at 902 Greene Street, Lucky's Market, and Michigan Stadium Gate 2
Linwood: I-75 Northbound Rest Area at mile marker 175
Adrian: "Meet Me in St. Louis" performance at Croswell Opera House
Sunday, Nov. 26
Ann Arbor: Dog-O-Mat
Chelsea: New Chelsea Market
Lansing: Triple Goddess Bookstore
Ferndale: Rust Belt Market
Adrian: "Meet Me in St. Louis" performance at Croswell Opera House
Clinton Township: Vienna Boys Choir concert at Macomb Center for the Performing Arts
Monday, Nov. 27
Ann Arbor: Congressman John Lewis lecture at Hill Auditorium
Battle Creek Books
Battle Creek: IBEW Local 445
Chelsea: New Chelsea Market
Grand Rapids: Presto Print
Howell: Livingston County Courthouse
Lansing: Triple Goddess Bookstore
Novi: Mom and Baby Shop
Tuesday, Nov. 28
Battle Creek Books
Battle Creek: IBEW Local 445
Chelsea: New Chelsea Market
Grand Rapids: Presto Print
Lansing: Triple Goddess Bookstore
Novi: Mom and Baby Shop
Saginaw: Bradley's Bistro
Waterford: L.A. Cafe
Wednesday, Nov. 29
Ann Arbor: Dog-O-Mat
Battle Creek Books
Battle Creek: IBEW Local 445
Chelsea: New Chelsea Market
Grand Rapids: Presto Print
Lansing: Triple Goddess Bookstore
Livonia: Redistricting Reform Town Hall at Madonna University
Novi: Mom and Baby Shop
Saginaw: Bradley's Bistro
Thursday, Nov. 30
Ann Arbor: Dog-O-Mat
Battle Creek Books
Battle Creek: IBEW Local 445
Chelsea: New Chelsea Market
Grand Rapids: Presto Print
Howell: Livingston County Courthouse
Lansing: Everybody Reads
Lansing: Triple Goddess Bookstore
Milford: Downtown Christmas Open House
Novi: Mom and Baby Shop
Saginaw: Bradley's Bistro
Milford: Christmas Open House at Downtown Milford