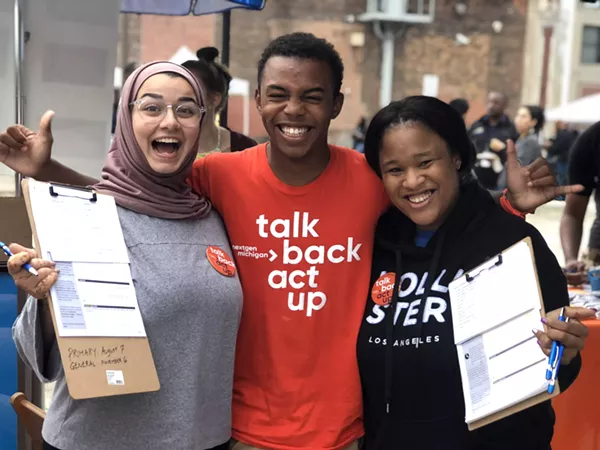 It's no secret that increased voter turnout most often helps Democrats win. That's why Republicans like those in the Michigan Legislature try to
make it more difficult for people to vote
— particularly those with liberal leanings.
Fortunately, there are some ways to offset the damage done by voter ID and other registration laws that favor Republicans — and they include getting young people involved in the political process. A great opportunity to do this is upon us, as college freshman who may not be registered to vote head to campuses across the state for their respective welcome weeks.
From now through early September, NextGen America — an environmental advocacy group and political action committee — will host a series of voter registration drives at at least 18 campuses throughout the state. Michigan is one of 11 swing states where the group is concentrating its efforts. NextGen America "fights for a clean energy economy based on equality, inclusion, and a shared and sustainable prosperity."
NextGen is seeking volunteers to help register students to vote at Wayne State University this Saturday and Sunday; at Oakland University on Friday, Saturday, Sunday, and Monday; and at the University of Michigan in Ann Arbor next Wednesday, Thursday, and Friday.
A spokeswoman for NextGen says the organization believes the effort will have a direct impact on turnout in November.
"Between January and July, three of of our organizers registered impressive portions of the new voters in their home counties," the organization says in an email. Organizer Jaylen McKinney's team registered 60% of all new voters in Genesee County, Carly Hammond registered 34% of new voters in Saginaw County, [and] Organizer Jason Hale registered 22% of new voters in Kalamazoo County.
"In the two precincts directly touching the Western Michigan University campus, where the voting population is more than 80% young voters, turnout doubled. Similarly, in all three precincts surrounding Michigan State University, the voter turnout from the primary at least tripled from 2014."
The voter registration drives come ahead of the Nov. 6 election, where Democrat Gretchen Whitmer is competing against Trump-aligned Republican Bill Schuette. Congressional districts where Democrats have a chance to pick up seats include MI-11 and MI-08. Michigan's 8th includes Oakland University.
A full schedule and more information on how to get involved is available
here
.
In order to cast a ballot in the upcoming election, you must be registered to vote at least one month before Nov. 6. Forms are available
here
.
Stay on top of Detroit news and views. Sign up for our weekly issue newsletter delivered each Wednesday.