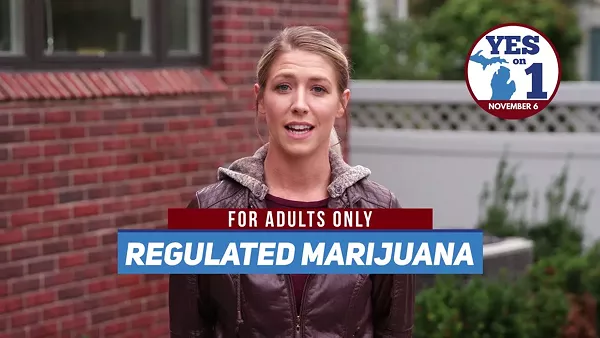 The Coalition to Regulate Marijuana Like Alcohol has released its first round of
media advertising to drum up support for Proposal 1, November's marijuana legalization effort. The three 30-second spots are currently on YouTube and use very credible spokespeople to present their cases.
One of the ads, "Patients for Prop 1," features retired Fox 2 news anchor Anqunette Jamison discussing her medical use and finishing with the line that a yes vote on Prop 1 "means more people will have access to tested safe products."
Another ad, "Veterans for Prop 1," touts the benefits of using marijuana to treat PTSD and throws in the line, "marijuana is already here and it's not dangerous."
And a third, "Law Enforcement for Prop 1," has retired police officers offering the idea, "instead of wasting law enforcement resources on marijuana arrests, we should be focused on fighting serious crime."
The ads reveal the core messages CRMLA will use going into election season. First of all, the group leans on the already accepted (around 90 percent) use of medical marijuana and makes the case that recreational legalization will make the medical system better. They point out that marijuana is already here and that it's legal elsewhere, so this is not a big change. And finally, they support the idea of getting the police off the backs of otherwise innocent people.
Stay on top of Detroit news and views. Sign up for our weekly issue newsletter delivered each Wednesday.