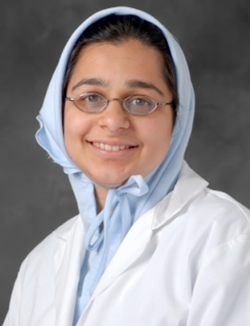 Henry Ford Health System says it has fired the emergency room doctor at the center of the first federal female genital mutilation prosecution in the United States.
Dr. Jumana Nagarwala was indicted yesterday on a range of charges after allegedly
cutting the genitals
of a pair of 7-year-old girls from Minnesota as part of a religious ritual. A spokeswoman with Henry Ford would not say whether the charges led to Nagarwala's firing. The 44-year-old was placed on administrative leave April 13, the day after she was arrested.
Federal officials say Nagarwala cut the genitals of the two girls at a Livonia clinic owned by a Dr. Fakhruddin Attar. He and his wife, an office manager at the clinic, have
also been indicted
in the scheme. All three belong to a small Indian-Muslim sect call the
Dawoodi Bohra
.
A lawyer for Nagarwala has said the doctor did not cut the girls' genitals, but rather removed membrane using a scraper. The
Detroit Free Press
on Wednesday reported that a doctor's findings
refute that claim
. The Freep says federal court documents and a juvenile protection petition filed on behalf of the victims cite scarring, a small tear, healing lacerations and what appears to be surgical removal of a portion the girls' genitalia.