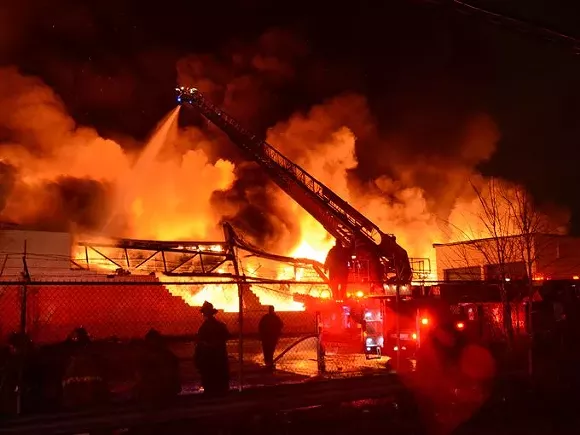 The building that housed the nonprofit Reclaim Detroit caught fire early Wednesday morning. The nonprofit organization specializes in deconstructing abandoned buildings and homes and salvaging usable materials throughout Metro Detroit.

While the source of the fire is unknown, the Highland Park fire department is still working on extinguishing the flames. No injuries have been reported, but there were major losses for the other businesses within the building, including Reclaim Detroit.
The devastation continues to take what's left of the nonprofit. According to their Crowdrise page, "the fire continues to blaze and consume the last remnants of the salvaged lumber, retail products, woodworking equipment and office supplies that we have."
The massive fire will supposedly take about a week to fully extinguish, and despite losing everything, Reclaim Detroit is determined to uphold their mission of salvaging Detroit. "Just as Detroiters have done again and again, we will rise from the ashes and continue to use Detroit's vacant homes to create jobs and turn our history into works of beauty," Reclaim Detroit writes.
The nonprofit began a fundraiser to help them move forward from this setback. While the damage will cost the organization a rough $500,000 to recover lost materials and equipment, their main focus is helping their staff. "Our first priority is to support our staff throughout the recovery. Your donations will directly benefit Reclaim employees and their families over the next several months," the Crowdrise page says.
As of today, they have raised a little over $4,000. Donations are gratefully accepted through Reclaim Detroit's Crowdrise page.