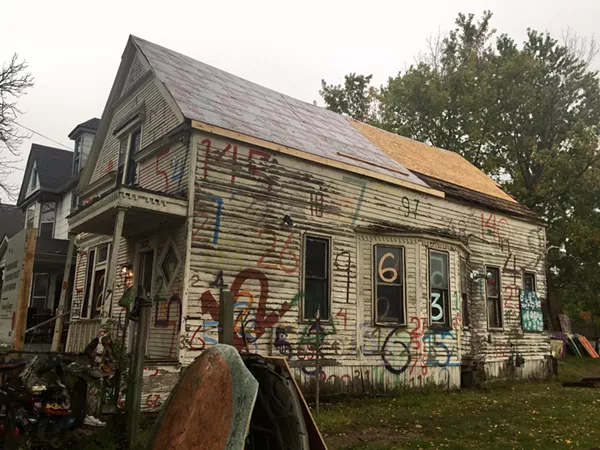 Construction has begun to convert one of the Heidelberg Project's two remaining original structures into the site of a coming artist-in-residence program that will include an art gallery.
The renovation marks the start of Heidelberg 3.0 — "a new era for the Heidelberg Project," Jenenne Whitfield, the project's president and CEO, said in a news release.
"... we are going to reimagine this community, lift it up economically and preserve the legacy of what [project founder and artist Tyree Guyton] built over the last 31 years," she said.
Construction on the house comes following a fundraiser that organizers say raised nearly $110,000 for a new roof, windows, and basic plumbing and electrical work.
According to the release, the Numbers House came to be in the '90s, when its owner, Thelma Woods, asked Guyton to cover it with numbers to help teach her kids to count. It is located a few doors from the now-polka dot-covered house where Guyton grew up.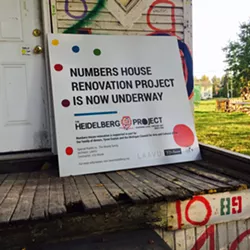 As arson fires reduced many of the structures around the Numbers House to piles of rubble earlier this decade, it and the Dotty Wotty House stayed standing.
But as the Heidelberg seeks to reinvent itself in the wake of the fires, it has run into resistance from neighbors and city hall.
According to the
Detroit
Free Press
, the Detroit Land Bank Authority denied a request for the project to become a
"community partner"
— a designation that lets nonprofits and religious groups buy Land Bank properties in bundles. The Heidelberg Project had sought 40 parcels to create a
new artists' community
. The Land Bank owns tens of thousands of properties and did not publicly disclose why it refused the designation.
Meanwhile, the city of Detroit last month issued
emergency demolition orders
for some structures reduced to their first levels and basements, where Guyton had continued installing art. City officials issued four demolition orders for properties adorned in artwork following what it said were neighbor complaints. Two of the properties were city-owned and two were owned by the project. The latter two orders were rescinded after the city said the buildings department issued them in error.
In addition to hosting resident artists, the revamped numbers house will also serve as an education and event space for neighborhood events and youth programming. The exterior of the home is also due to undergo a transformation — Guyton plans to choose an artist to design a new installation on the exterior of the building. More artists are expected to be included down the road.