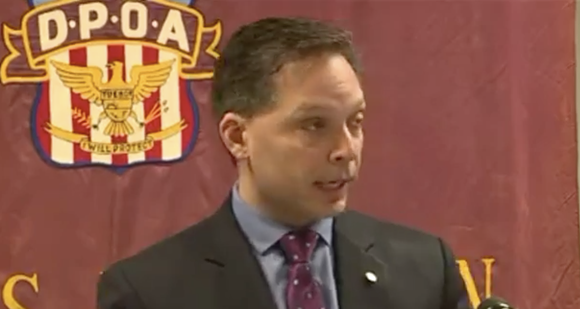 The head of Detroit's police officers union has been suspended without pay from the Detroit Police Department after being charged with malicious destruction of property in Oakland County.
Local media say Detroit Police Officers Association President Mark Diaz was
arraigned
on the felony charge Friday. He was also charged with reckless driving.
Diaz is alleged to have caused between $1,000 and $20,000 in damage to the Holly Academy, an elementary school in Holly, Michigan. The crime occurred on December 20, 2016.
Detroit Police Chief James Craig tells the
Detroit News
that the department has launched an internal affairs
investigation into Diaz
. Michigan State Police are conducting a separate probe. Craig told the
News
that the union board will decide whether to keep Diaz in place as president.
The Detroit Coalition Against Police Brutality calls the allegations against Diaz black eye for the department.

"[The charges] are a reflection on Diaz's judgment and character," said coalition Director of Operations Chris White. "What we wanna know is how long ago was this warrant issued and signed and were Chief Craig and Diaz both aware of this?"

Diaz tells Metro Times he first learned of the charges Friday morning.

"To say I was shocked by the charges is an understatement, but I have the greatest respect and confidence in our justice system and I trust this matter will be adjudicated expeditiously," Diaz said in an email.