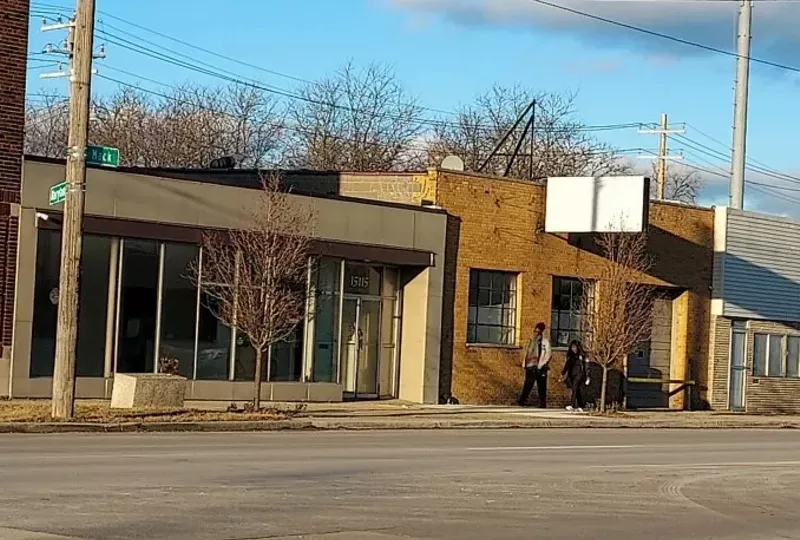 Patrick Giroux was shocked when he noticed that the big steel sign on his building on Mack Avenue in Detroit went missing.
The culprit, it turned out, wasn't a scrap metal thief looking for quick money.
City workers removed his sign, ripping off bricks on the facade and puncturing a hole in his roof.
He called the police and filed a complaint.
"What gave them the right to take the sign? The sign is valuable," Giroux tells Metro Times. "We were never given a notice or warning. The sign was in good shape, yet they stole it."
Giroux said a sign maker told him it would cost "$6,000 or so" to replace and install a new sign.
To make matters worse, a city employee threatened to charge Giroux more than $1,100 to reimburse the city for removing the sign.
Giroux bought the vacant brick building near the border of Grosse Pointe Park in April 2022, cleaned up the property, planted flowers, and added lights, with the goal of finding businesses to occupy it.
In November 2022, a city inspector issued Giroux a $440 ticket, saying it's a ordinance violation to have a sign on a vacant building.
But at a hearing in front of a magistrate on Feb. 16, the inspector and a city attorney agreed to give Giroux four weeks to get his sign inspected so he could keep it on his building, he says.
Less than two weeks later, city workers removed the sign without warning. The workers damaged Giroux's roof and brick facade, and left lag bolts, anchors, and hardware on the sidewalk, which seemed odd for a city that wants to rid the area of blight.
Giroux was told the sign was destroyed and he couldn't get it back.
"They had no right to steal my sign," Giroux says. "It's ridiculous."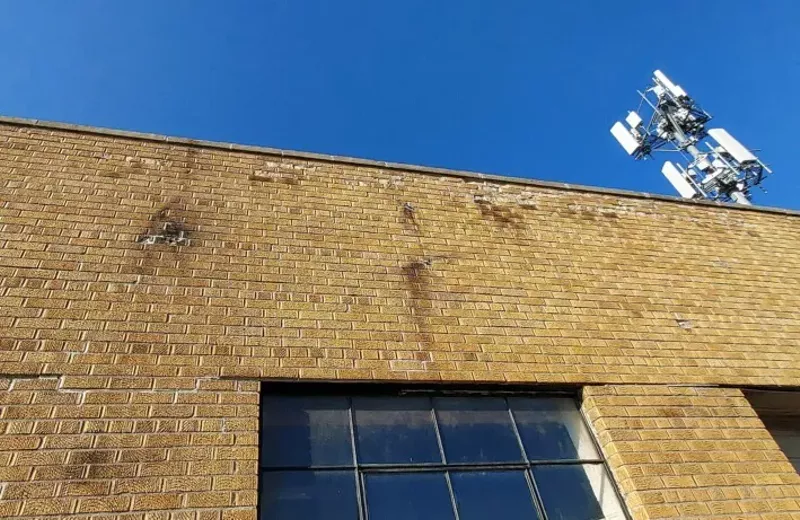 Katrina I. Crawley, the city's assistant director of blight remediation, told Giroux in an email that "unfortunately" the city's General Services Division (GSD) "did not receive notice that your property's remediation was put on hold, or your hearing was adjourned."
Crawley then encouraged Giroux to "go through a lawyer" to deal with the sign and offered to give him a discount on the $1,131 that he was billed to reimburse the city for removing the sign "in exchange for a signed release of liability for the work performed."
In a written statement to Metro Times, Mayor Mike Duggan's spokesman John Roach said GSD "had full authority to remove the sign, as it has done at dozens of other buildings across the city" and disputed that Giroux was given four weeks to get his sign inspected.
Roach said the city removed the sign as part of a larger effort to eliminate blight.
"The corridor clean up that this is a part of certainly is a mayoral priority in general and is a part of his effort to rid the city of commercial blight residents have lived with for far too long, but he was not at all involved in or aware of this specific enforcement action," Roach said.
Roach added that the city is aware "of the unintentional damage [that] was used during the removal of the sign."
"If the owner files a standard claim with the city, the Law Department is prepared to review it immediately to work with the owner on a resolution," Roach said.
Giroux said he can't understand why the city is now denying he was given four weeks to get a permit for the sign. For now, he's trying to figure out his next step.
Asked what he wants from the city, Giroux says, "I want [compensation] for the sign, and they should fix my roof. That's what would make it right for me."
Coming soon: Metro Times Daily newsletter. We'll send you a handful of interesting Detroit stories every morning. Subscribe now to not miss a thing.

Follow us: Google News | NewsBreak | Reddit | Instagram | Facebook | Twitter