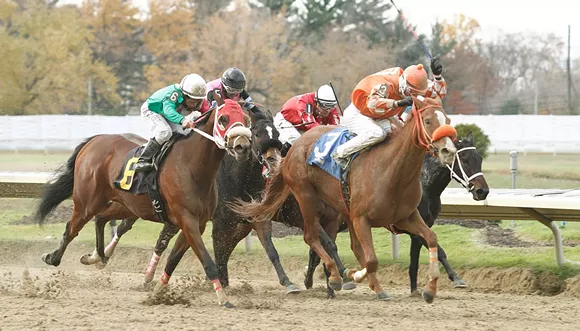 Terry "T.D." Houghton has had a hell of a career. At 44, he's already won more than 5,000 career races.
But he's never once raced in his hometown of Hazel Park.
That's because Hazel Park Raceway, where his father, Ronnie Houghton, rode for many years as a thoroughbred jockey in the 1970s, had been a strictly standardbred (harness) track since 1985.
But in June,
thoroughbred racing returned to Hazel Park
for the first time in 30 years.
Houghton, however, hasn't raced anywhere since March,
when he took a terrible spill at Mountaineer
race track in West Virginia, breaking his collarbone and injuring his spine.
Now after months of recuperation and physical therapy, Houghton is back home in Michigan, where he's been exercising horses at Hazel Park and working his way back into racing shape for the last few weeks.
Tonight, Houghton will finally saddle up for a horse race in his hometown.
"I've always wanted to ride at Hazel Park since I was a little kid growing up here," he says. "A lot of my friends from school have never gotten to see me ride live. It's going to be great."
Houghton has several mounts tonight and tomorrow at Hazel Park, and then he's headed back to West Virginia to resume the racing meet at Mountaineer.
Post time for the first race tonight is 7:30 p.m. Admission is free.

Hazel Park Raceway is located at 1650 E. 10 Mile Rd.
For tonight's entries, visit equibase.com.