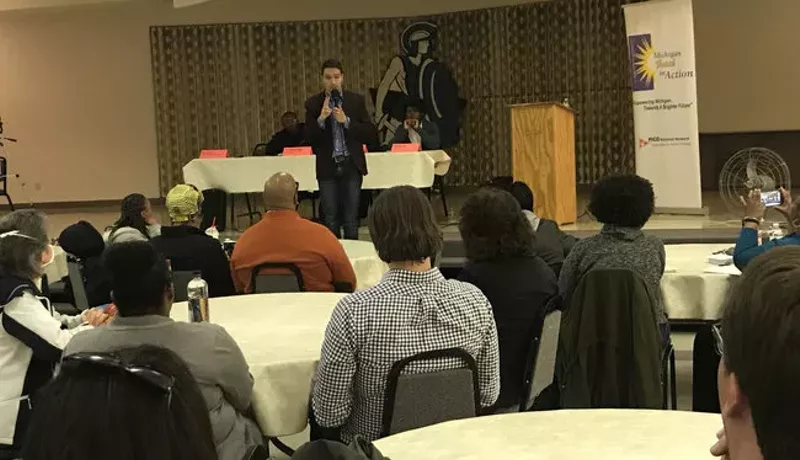 The public is invited to a town hall meeting about reducing gun violence scheduled tonight in Lansing. It's part of a 20-city nationwide tour hosted by a group called Guns Down America, which stopped in Flint Monday night.
State Rep. Kara Hope, D-Holt, will be there to discuss two gun bills. The first,
HB 4283
, a so-called "red flag" bill, would allow law enforcement to remove guns from a person who threatens violence if family, friends or co-workers successfully petition a judge.
Linda Brundage, executive director of the
Michigan Coalition to Prevent Gun Violence
, said it could prevent many tragedies before they happen.
"It will save lives. This is legislation that about 15 other states have," Brundage said. "Connecticut has had it for about 15 years, and so it's very, very well researched. It will particularly save lives relative to suicide."
The bill also would prevent those people from legally buying more firearms.
The second bill,
HB 4511
, would make it possible to charge a felony if someone leaves a loaded weapon unattended and someone is killed. Opponents say these laws infringe on the Second Amendment right to bear arms.
Both bills are currently languishing in the Judiciary Committee.
Ivor Volsky, executive director of Guns Down America, said his group is focused on a campaign to push the country's 15 largest banks to stop doing business with gun manufacturers and to keep guns out of the hands of criminals.
"One is really cracking down on the gun industry to ensure that they are not producing military-style weapons for the civilian market - like they are today," Volsky said. "And the second is making guns significantly harder to get through things like licensing and registration and insurance for firearms."
According to the Centers for Disease Control and Prevention, 1,138 people in Michigan died by gun violence in 2017. Nearly half were suicides.
Learn more about the town hall at
gunsdownamerica.org
.
Stay on top of Detroit news and views. Sign up for our weekly issue newsletter delivered each Wednesday.