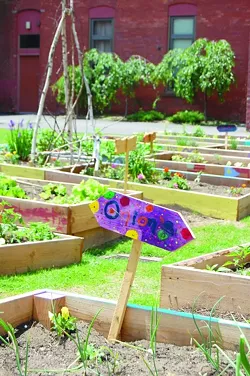 Detroit's identity as the Motor City has become bent and rusted over the years. Folks once flocked here to work in the auto industry — that's how my family got here. Now, young people who come to Detroit say they come because property is cheap, because they want to be artists, to start small retail outlets. But the biggest thing Detroit is getting known for is urban farming.
People coming to Detroit to farm — that's a real doozy.
They used to come here to get off the farm, but the more things change, the more they stay the same. Revisiting our preindustrial cachet during our postindustrial malaise just might make sense.
Manufacturing is still the backbone of the local economy, but we may have finally learned our lesson about depending too much on one industry. As we regroup, reimagine, retool, recycle or whatever, Detroit needs to focus on what we will be. What will be the industry that helps drive the economy? Could it be food? There are numerous factors in place that make sense for food to be a thriving and empowering economic force here.
For starters, we have about 700,000 people who need to eat every day. That's something that can be taken for granted when you've been living with it, but when you actually consider what it takes to feed that many people daily it can be mind-boggling.
Then think about how much money it represents in the economy. That's millions of dollars each day — from retail purchases to restaurant dining — without end. And a lot of that money leaves the city. According to the Detroit Economic Growth Corporation, in 2010, Detroiters spent $200 million at grocery stores outside the city. I don't have anything against the suburbs, and I spend my fair share of money outside of the city, but what if the city could pull half of that back in with new and improved retail outlets — it could make a huge impact on the city. And that doesn't even include the amount spent at restaurants.
We have the land capacity to grow a lot of produce. A recent Michigan State University study found that through using intensive growing methods, nearly 76 percent of vegetables and 42 percent of fruit Detroiters eat could be supplied from about one-sixth of the city's vacant land.
Growing food is one step. A lot of people have been doing that since former Mayor Coleman Young initiated the Farm-A-Lot program back in the 1970s. Growing has intensified over the past 20 years through the assistance of groups like the Gardening Angels, the Foundation for Agriculture Resources in Michigan (F.A.R.M.), Earthworks Urban Farm, the Detroit Agriculture Network, the Detroit Black Community Food Security Network and Keep Growing Detroit.
Now, the Detroit Food Policy Council is working to create a food system built on that foundation. More than just growing food, the food system needs to educate people about nutrition, develop food processing and delivery capacity, gain entry into retail outlets and restaurants for local farmers, train people for work in this system and coordinate food ordinances to allow this system to grow. More than just feeding people, this overall system helps empower people and creates economic well-being.
"The work that I do is operating from the assumption that it is the basis of a new economy," says Jess Daniel, a Ph.D. student at MSU who works with Food Lab Detroit, a network of triple-bottom line (financial profit, social value, environmentally positive) food businesses.
"It's emblematic of a general movement in the United States about what place-based economies can be," Daniel continues. "Food is a way that lots of different people can dig into and think about economies in a different way. It doesn't need to be about acquiring more. We feel the health effects. We can see food growing in the ground and we can see the effects of how we grow our food in the environment around us."
Daniel also points out that a lot of the business activity around locally grown food is based on what the law allows, but that there are a lot of folks operating in the gray area — where it's not exactly clear what is legal.
Those gray areas were cleared up for much of the growing end in March after the Detroit City Council passed the Urban Agriculture Ordinance, which defined and codified activities that were already taking place. (It's OK if you missed it while we were in the throes of getting an emergency manager and sending Kwame Kilpatrick to prison.)
Daniel sees the same need when it comes to opening up opportunities in food processing and catering for small businesses operating out of people's homes.
"I think getting access to commercial kitchen space is huge," says Daniel. "The other thing that we're trying to work on is making a clearer path to getting started in the food businesses. We at least have to make a clearer road map for people so they know what they need to start their businesses."
LOCAL FOOD SYSTEMS are shifting around the world and across the country. While Detroit is a leader in urban agriculture, Daniels says we are behind in developing the other businesses in the system. What those businesses look like may be in long-term evolution as the world economy changes.
In addition, the world population is predicted to grow to more than 9 billion people from the current 7 billion by 2050, and feeding all those people will stress every food system. Local has become the byword for food. Note that grocers around the metropolitan area are increasingly advertising that they have local or Michigan-grown products.
Dan Carmody, president of Eastern Market Corporation, has some perspective on how the food system works and sees ways that smaller players can get into the food market.
"I think there is a real opportunity to do a food system that has a 'healthy baked food and specialty food' niche, like the microbreweries have done since 2000," says Carmody. "It's a difficult transition to make it healthier for smaller producers to survive. I just think that we have to create viable business models in order to show how smaller food systems can be successful. It's entirely possible."
The way we identify the great ages of human activity are related to how we acquire food: the age of the hunter-gatherer; the agricultural age; the industrial age. If you believe the word industrial only refers to things like steel and cars then you have missed the factory farms that spread over huge portions of the American landscape.
Industry has dominated how we eat and what we eat. It has also made high blood pressure, diabetes, obesity — and complications of these ailments, such as kidney and heart disease — common. Good and nutritious food is truly the best medicine for the aforementioned ailments.
Farming is hard work. Detroit has a lot of unemployed and underemployed people who could be producing food. The work will make us healthier and will also lift the spirits of people when they can literally see the fruits of their labor. People who grow good food eat good food. And at the end of the day, they can gather together with friends in community and say, "Let's eat."
Let's eat good healthy food that we've grown ourselves. It doesn't get any better than that.
Larry Gabriel is a writer, musician and former editor of Metro Times. Send comments to [email protected]