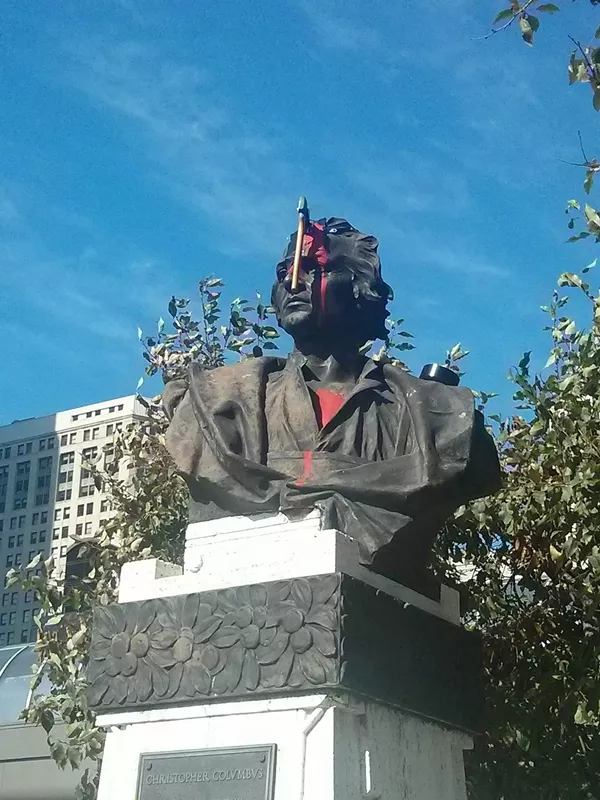 Following the movement to remove statues and monuments of racist or otherwise controversial figures from American history,
a local group has collected nearly 1,500 signatures
in an effort to remove the 117-year-old bust of Christopher Columbus located in downtown Detroit.
The petition also comes amid discussions
to change the name of Cobo Center
, which was named after a Detroit mayor who advocated for racially charged housing policies that negatively affected African-Americans, including demolishing the Black Bottom and Paradise Valley neighborhoods.
The Raiz Up, a five-year-old hip-hop collective based in Southwest Detroit, is asking Detroit City Council and Mayor Mike Duggan to remove the statue and replace it with a that of a local icon such as
Grace Lee Boggs
, Sojourner Truth, or Chief Pontiac.
The group is asking the city to commission a Detroit artist to create the statue as well as a group of local historians and activists that would work to ensure the monument represents inclusivity for all Detroiters.
While most American children are taught that Columbus "discovered America," his
legacy has been deemed problematic
by some, who believe federal observance of Columbus Day is tantamount to a celebration of the colonial mindset that resulted in the genocide of indigenous people. (Last month,
Los Angeles city council voted
to replace Columbus Day with "Indigenous Peoples Day.")
The Raiz Up's petition reads in part:
As the terrains and politics of today change, we should take time to critically examine whose stories are represented in public spaces, and reclaim the narratives of our forebears, by installing memorials of local heroes and icons who represent Indigenous or Black resistance, brilliance, and power. Together we can change our culture and our consciousness. In new awareness we can find ways to restructure those paradigms that lack equity, and create new ones that empower our own communities with the knowledge of self.
Metro Times
reached out to The Raiz Up for comment, but did not hear back.
The bust, which is located near the Renaissance Center, was created by Italian sculptor Augusto Rivalta and dedicated by the city of Detroit on Oct. 12 1910. Historically, Columbus Day celebrations were used in part by Italian-American communities to celebrate their heritage and help assimilate into mainstream American culture.