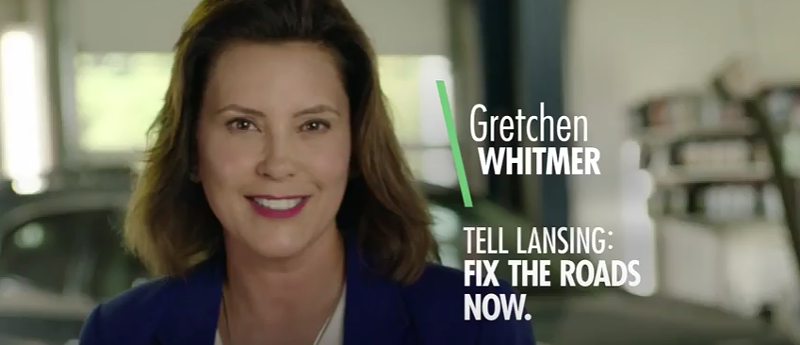 Gretchen Whitmer is still passionate about fixing Michigan's roads, but she isn't going to give any more damns about it.
Earlier this summer, the Democratic candidate for governor
released an ad
championing her platform, "Fix the damn roads." Although the slogan certainly helped Whitmer get the urgency of her point across, some prospective voters weren't so happy about the candidate's use of foul language.
Twitter users were
vocal in their reactions
to the ad. Some
parents were upset
that their children were exposed to profanity, while others thought that Whitmer
played it too safe
. One user even tweeted, "Just don't say 'damn' anymore. I [sic] takes away from your
ladyness
."
We're not sure what "
ladyness
" is or what it has to do with Whitmer's competency as a gubernatorial candidate, but it looks like Whitmer has decided to tone it down in the final weeks before the election.
In the new ad, Michiganders express (very animatedly) their experiences navigating the states battered roads. Although Whitmer drops the D-word from her own vernacular, the ad still manages to slip in a relatable "daaamn" from the mouth of one Michigan driver.
Will the anti-profanity Puritans be satisfied? Probably not. But Whitmer's new slogan "Fix the roads now," may help the Democratic candidate garner a few more final votes before the Nov. 6 finish line.
Stay on top of Detroit news and views. Sign up for our weekly issue newsletter delivered each Wednesday.