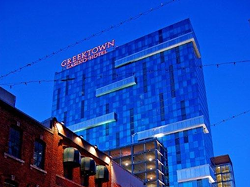 An employee at downtown Detroit's Greektown Casino has been diagnosed with Hepatitis A, according to the city's health department.
While most casino patrons needn't worry, the department says those who've recently spent time in the private platinum member card access area of the casino should be vaccinated immediately.
Health officials say the exposure period was between Nov. 11 and Nov. 22. Hepatitis A can potentially be prevented if people who come in contact with the virus get vaccinated within two weeks.
Southeast Michigan has seen an increase in Hepatitis A cases since 2016, Detroit health officials say. Two days ago, the city's health department said it was investigating a case of Hepatitis A at the McDonald's on West Grand Boulevard. People who patronized that location between Nov. 8 and Nov. 22 are urged to get the Hepatitis A vaccine as soon as possible and before Dec. 6.
Health officials describe Hepatitis A as a contagious liver disease that can range in severity from a mild illness lasting a few weeks to a severe illness lasting several months. Symptoms can include fever, diarrhea, nausea, vomiting, and sometimes yellow eyes or skin and dark urine.
Hepatitis A is transmitted when a person eats, drinks, or touches their mouth with food, liquid, or objects (including their hands) that have come into contact with stool from an infected person.
Detroit's health department says Greektown Casino has hired a certified cleaning contractor which has thoroughly cleaned and sanitized all potentially affected areas. The casino is also working with the health department to notify and arrange vaccination for potentially affected people who may have eaten in the private platinum member card access area, as well as all employees.