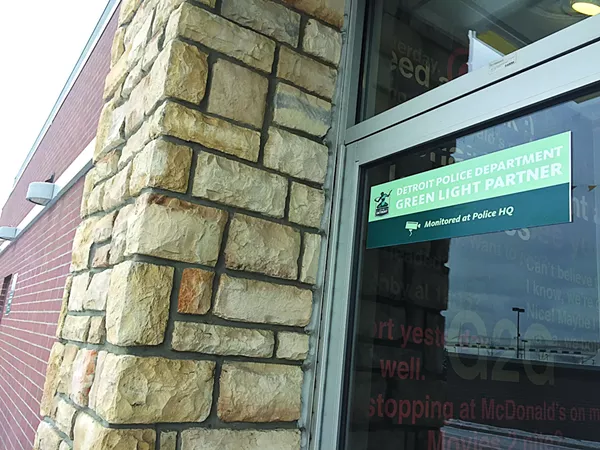 Visitors to Greektown will soon be subject to increased monitoring by police — but that doesn't mean more cops will be dispatched to Monroe Avenue, they'll be viewing citizens remotely from a surveillance center in Detroit police headquarters.
According to media releases from the city and the Detroit Police Department, Greektown has become the first corridor where businesses have signed on to Detroit's Project Green Light as a group. The news comes after Detroit Mayor Mike Duggan indicated last spring that he was working on establishing
"Green Light Corridors"
following a
series of break-ins at Michigan Avenue businesses
.
The idea behind project Green Light is that crime can be prevented and perpetrators can be caught more easily via the live video surveillance.
City officials have credited Green Light with reducing crime at the majority of its more than 230 locations by 11 percent between 2016 and 2017. Businesses pay $4,000 to $6,000 to sign up, plus at least $140 in monthly fees for cloud storage and high-speed internet. As a perk, crime incidents at their establishments get elevated to "priority 1" emergencies and they're guaranteed weekly visits by police.
While Detroit police have been
unable to provide
Metro Times
with any evidence they have stopped crimes in progress using the technology, there have been multiple occasions in which
suspects were caught soon after a crime
thanks to the ease with which officers were able to pick up license plate numbers and suspect images through footage captured on the high-definition cameras.
Greektown has been home to several high-profile crime incidents in the past year. In December, a group of men
killed someone in the elevator of Greektown Hotel
. In April, three people were seriously injured
in a street fight
.
The American Civil Liberties Union of Michigan has expressed opposition to Project Green Light.
"We have concerns about mass surveillance," Field Director Rodd Monts told
WXYZ
last year. "We don't feel people because they live in the city of Detroit should be subject to big brother practices."
The ACLU of Michigan also opposes a plan to integrate
facial recognition technology
into the software.
While Greektown's businesses have voluntarily signed up for the program, a year from now, businesses open past 10 p.m. may be
mandated to do so
. Duggan earlier this month told a local media outlet he thinks "the votes in council are there" to pass the rule that could affect several thousand businesses.