After watching the now viral videos of a Louisiana police officer killing Alton Sterling, an African American man selling CDs in front of a party store this week, Leslie Williams, a Detroit native in her early twenties, says she felt angry.
At 3 a.m. Thursday morning, after watching a third video —the now-viral Facebook post where Diamond Reynolds explains that police officers in Minnesota just killed her boyfriend Philando Castile during a traffic stop — Williams took action.
"#BlackFriday Campus Martius 8 pm. Spread the word," she announced in a simple Instagram post. "Let's stop being scared! Fear was instilled but we can be fearless!" she wrote under the image, adding, "If you have a suggestion please make it! I want to work with people that are as angry as me. We can come together and make a plan."
From Instagram to Twitter to SnapChat, William's post made its away across Detroit. By the time
Metro Times
caught up with her and fellow organizers Alisa Berry, 22, and Daisha Cope, 26, the trio, who met via social media, predicted that 500 people would be in attendance. In actuality the protest, despite some rain in the beginning, brought in something closer to 1,000 individuals.
3 of #BlackFriday protest organizers discuss what they hope to see happen today and in the future. pic.twitter.com/c9WOUZ9tAF

— Allie Gross (@Allie_Elisabeth) July 8, 2016
While tensions around the protest could have been high, specifically after 12 police officers were shot, and five were killed, during a Black Lives Matter rally in Dallas Thursday evening, the Detroit Police Department made clear their intentions to work with the organizers to ensure a productive and peaceful space where voices could be heard.
Prior to the rally getting started DPD Police Chief James Craig went to Campus Martius where he met with Williams. He explained, she says, that he supported what they were doing and just wanted to make sure everyone was safe and that their was no violence; an overture Williams says she appreciated and agreed with.
As people began filtering in to the park the crowd was led in chants before bowing their heads for a prayer. "This isn't about religion but respect for the hundreds and thousands killed by police brutality," Williams said, before explaining the "House Rules" for the evening.
"You will hear everyone," she told the gathered group, noting that anyone who had something to say would have the opportunity to speak, and that following the testimonials those in attendance would have the chance to fill out notecards with what they believed should be the answer to the violence.
"We should all have a voice. With unity and uniformity we can have our power back," she said.
One at a time members of Detroit's community approached the megaphone and spoke about injustices they've witnessed, frustrations they deal with on a daily basis, solutions they have in mind and their hopes for a more loving and positive future.
"I'm fired up. I'm fed up." Large crowds in campus martius for the #BlackFriday protest pic.twitter.com/qSHKiyXDMp

— Allie Gross (@Allie_Elisabeth) July 9, 2016
"All of these people came here for you," Aisha Johnson, 37, whispered to her 9-year old daughter as the crowd broke into a chant between speakers. "They're here for you. They don't want to see you dead in the streets."
Johnson says she brought her daughter to the protest because she wanted her to know that people, even if they didn't know her, care about her — and likewise, she wanted her daughter to also care for others and care about the movement for justice and equality.
"We're tired of watching our family and friends, people we love, people who look like us get killed because of nothing. We need to be out here together and supporting each other," Johnson told
MT.

She was not alone. Many parents viewed the protest as a necessary experience for their kids.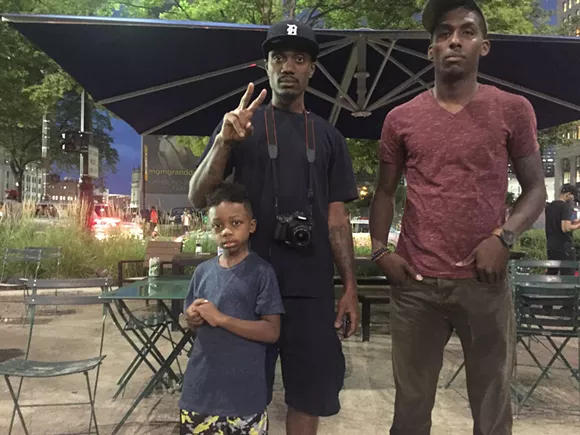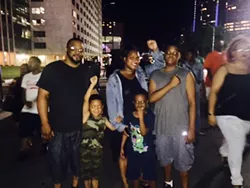 "My family needs to be a part of this," Chicquita, 34, told
MT.
She came to the protest with her husband, 12-year old step-son and two little boys. "I let him know what led up to this, and also what happened in Dallas," she explained, referring to the conversations she's been having with her step-son this week. "You have to be a part of the solution, not the problem, and I teach them that all the time."
After about two-hours of community members taking the mic, the crowd erupted in chants to march.
New Era Detroit
, an organization aiming to empower and unify the city's black community and address both police violence and street violence in the neighborhoods, took the lead, guiding the crowd in a walk around downtown Detroit.
.@NewEraDetroit now leading #BlackFriday protesters in a March to Hart Plaza. "No justice. No peace." pic.twitter.com/yghh2QBxZC

— Allie Gross (@Allie_Elisabeth) July 9, 2016
"More power to the people," and "No justice, no peace," were just a few of the chants protesters yelled as they took their message from Campus Martius to an even more public arena.
Cars honked to show support and numerous bar-goers, city workers, and tourists raised their arms in solidarity as the crowd marched by. For a few hours it felt like all of downtown Detroit could hear the screams, cheers, pain, frustration and, ultimately, love of the movement as chants bounced off the walls of the city's buildings, leaving a powerful and hard to miss message echoing.
#BlackFriday protestors marching through Greek Town. Fri night party goers part the way filming, cheering + watching pic.twitter.com/AmtrDlZKpc

— Allie Gross (@Allie_Elisabeth) July 9, 2016
While Friday night protests in other cities experienced clashes with law enforcement — Phoenix Police, for example, used pepper spray and tear gas on protesters — Detroit Police Department was respectful towards the protesters, blocking traffic in areas where the march was occurring but never making their presence particularly known.
William says she hopes people will meet next Friday in Campus Martius for another peaceful gathering, where people can start to talk about some of the solutions that attendees wrote down on the collected notecards this weekend.

"We want change, we want a solution, but we have to hear everybody's perspective," she says.