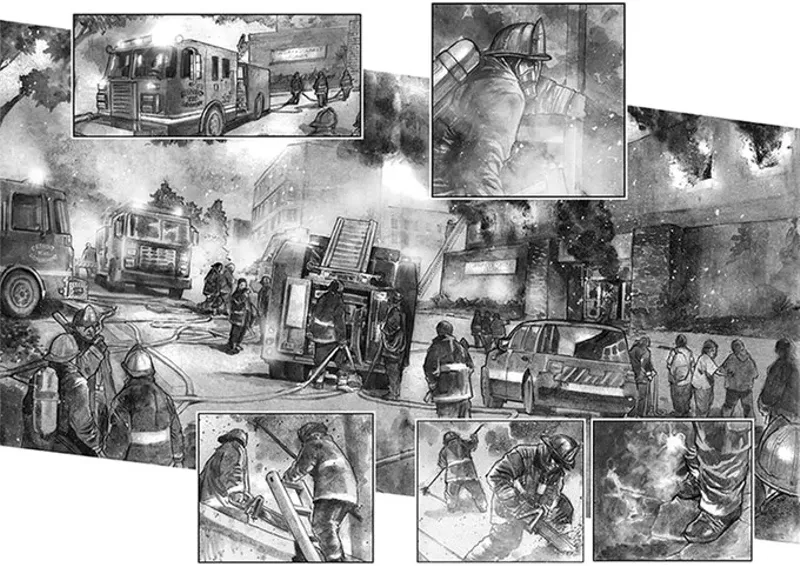 Detroit firefighters and medics respond to a stomach-churning cycle of fires, car crashes and medical emergencies every day.
What they see is horrific: Children mangled in car crashes. Teenagers gunned down in the street. Distraught family members.
The constant exposure to trauma takes its toll. Nationwide, firefighters have disproportionately high rates of depression, suicide and post-traumatic stress disorder (PTSD).
In fact, more firefighters commit suicide every year than die in the line of duty, according to the Behavioral Health Alliance, a group dedicated to improving access to mental health care.
Comic book creator and writer Brian Lau is bringing to life the pain and heroism of Detroit's firefighters in a new graphic novel titled "Inferno City Firehouse." The gritty and poignant 76-page book is breathtakingly illustrated by Erwin Arroza and features three firefighters coping with "life-changing and emotionally crippling events."
The cover is illustrated by famous Marvel comic book artist Clayton Crain, best known for "Ghost Rider: Road to Damnation" and "Venom vs. Carnage and Sensational Spider-Man (vol. 2)."
Lau is
raising money on Kickstarter to self-publish
the book in April, and he's offering lots of extras for donors, including original, hand-drawn pages, posters, exclusive and numbered covers and original music.
He's donating 20 percent of the book's proceeds to help firefighters cope with PTSD and depression and t0 raise awareness about the heartbreaking impact of witnessing too many bloody, broken, and burned bodies.
The characters and stories are based on real Detroit firefighters. Lau's grandfather Joseph Otto Lau served 26 years on the Detroit Fire Department and retired in 1968 as a senior lieutenant. While attending college, Lau's friend and roommate was a Detroit firefighter. He later committed suicide.
To get an even more intimate, close-up glimpse of what it's like to be a Detroit firefighter, Lau spent several days talking and riding along with firefighters from Engine 33 and Ladder 13 on the city's west side. He saw bravery and kindness. Brotherhood and sacrifice.
But in his research and relationship with other firefighters, he saw crushing anxiety and depression, which are symptoms often associated with PTSD.
"I wanted to bring awareness to PTSD, depression, and suicide," Lau tells the
Metro Times
. "As men, we often isolate ourselves and see depression as a weakness. But it's a strength to come forward. By writing the book, I want to point out that we have to face this and not overlook it."
The book illuminates both the bravery and pent-up struggles that spill out in unexpected, self-destructive ways. Lau writes with grace, sincerity, and compassion.
Erwin's black-and-white drawings are haunting and capture the characters as they save lives while struggling with their own.
One of the inspiring forces behind the book was Mike Nevin, president of the Detroit Fire Fighters Association. Nevin said Detroit's firefighters are the busiest in the nation and therefore face a lot of trauma. In 2012, 15 fire stations were closed, and now firefighters are required to make medical runs – more than 20,000 a year.
"We're going from a fire to a car accident to a fire to a cardiac arrest to another fire," Nevin tells the
Metro Times
. "We're bouncing around like a pinball. That's why PTSD is on the rise. There is only so much the human brain can handle and still function normally. This is a municipal epidemic of mismanagement. It's too much for people to deal with."
Lau ran three previously successful crowdfunding campaigns to self-publish four issues of "Staunch Ambition," a colorful science-fiction graphic novel that explores what happens when human innovation evolves into the supernatural.
Lau says firefighters, despite their heroics, are rarely seen in comics.
"This is a sorely neglected genre," Lau says. "Firefighters aren't given the respect they deserve. They're rockstars."
Stay on top of Detroit news and views. Sign up for our weekly issue newsletter delivered each Wednesday.