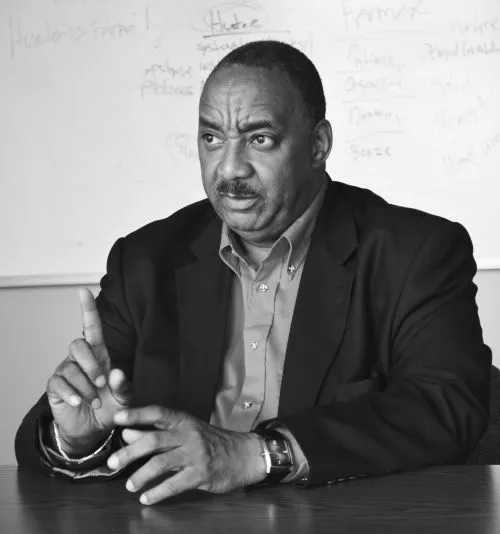 Sure, you've got the Clintons, the Bushes, and the Roosevelts. But there are plenty of examples of state and local political dynasties,
Governing magazine points out
, in a piece that highlights Detroit's very own Fred Durhal Jr. and his son.
A presence in Detroit politics for over 30 years, state Rep. Fred Durhal Jr.
most recently attempted a mayoral run
, falling well short of runaway write-in winner Mike Duggan and Wayne County Sheriff Benny Napoleon.
Governing
offered a different side to Durhal's story, pointing out his son, Fred Durhal III, has for years been at his side in the state Capitol.
Since 2002, the elder Durhal has served on and off as an elected representative in the Michigan House, and his son has spent the past several years by his side in Lansing as a campaign worker and then a legislative aide. Father and son would sit together in committee meetings and on the House floor. Rep. Durhal would explain to his son the workings of the legislature and why the appropriations committee was the most important in the Capitol. Today, Durhal III will occasionally slip into calling his father "Rep."
The younger Durhal, however, had no plans to enter the political world, reports
Governing
. "Like everybody, you kind of run away from what your parents do," he told the magazine. Rightly so, his father added. "[Politics] can take away from your ability to spend time with your family like you really want to," Durhal Jr. told
Governing
. "There is a sacrifice that you make."
Eventually, the aura of politics wore off on the younger Durhal, who told his father in 2009 that he would run to replace him this year, according to
Governing
. He'll face off against Republican candidate for state House District No. 5, Dorothy Patterson, in next month's election. If he wins,
Governing
says, "there will soon be another member of the family who will go by 'Rep'" — what the magazine calls "a budding political dynasty."
Head over to
Governing
and check out the entire piece
here
.