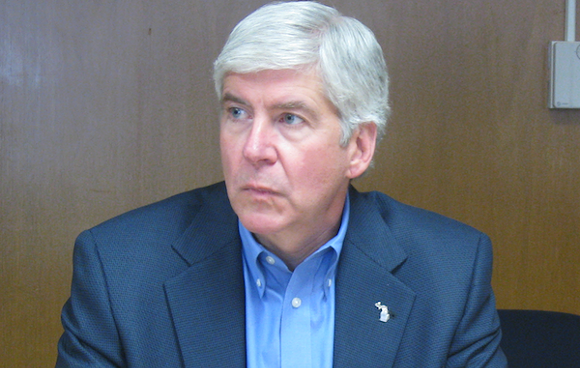 Gov. Rick Snyder got a little more than he bargained for when he and an unknown man went out to dine at Old Town Tavern in Ann Arbor last night. Judging by
a report from MLive
, one man in the tavern shouted, "Snyder, you fucked up!" That drew the attention of diner Laura Tanner, who reportedly waited until the guv finished his meal and then confronted him while he was leaving. On her Facebook page, Tanner says she yelled at him, "How was your water? Clean?" Tanner's friend then piped up, "Have some water on us, Rick Snyder!"
Of course, this is not the countercultural Ann Arbor of the 1980s. None of the guests joined in the confrontation. Even 20 years ago, a man like Rick Snyder trying to enjoy a meal in downtown Ann Arbor would have likely spent most of his meal dodging food and footwear. But, as others have pointed out, the scrappy university town has since become a sedate bubble of affluence where such antics are viewed as bad manners. (Although the wait staff apparently were unsettled by a visit from the controversial governor; on her Facebook, Tanner says a waitress told her after the incident, "It was so hard to wait on him.")
Again from Facebook, Tanner adds: "I realize he was just having dinner, but here i was drinking a clean glass of water, staring into his eyes because he was right next to us, and I thought, 'This may be the only chance I get to tell him to his face what I think of him.'"
Despite the relative silence of the people around Tanner, she clearly isn't alone. The embattled governor faces a hostile international press, a
campaign by Flint native MIchael Moore to have him arrested that has attracted almost a half-million signatories
, and would be facing multiple recalls if the Board of State Canvassers weren't being so stringent about rejecting them. As Moore puts it vividly in his screed, "The children of Flint ... will now have to endure a life of pain, irreversible brain damage and lower IQ's because of Governor Snyder's actions." No wonder people fly off the handle and yell at the guy when he goes out for Buffalo tenders.
Some say a few outraged people yelling at the governor isn't news. Some say it's bad form. Others say it's a relief to see the man responsible for poisoning hundreds of children
does
get hectored.
How do we know? Because we read a few of the
2,253 comments
(and
counting
) the story has received as of this morning. That's where last night's tussle seems to have spilled over into an all-day free-for-all this morning.
Have a look.