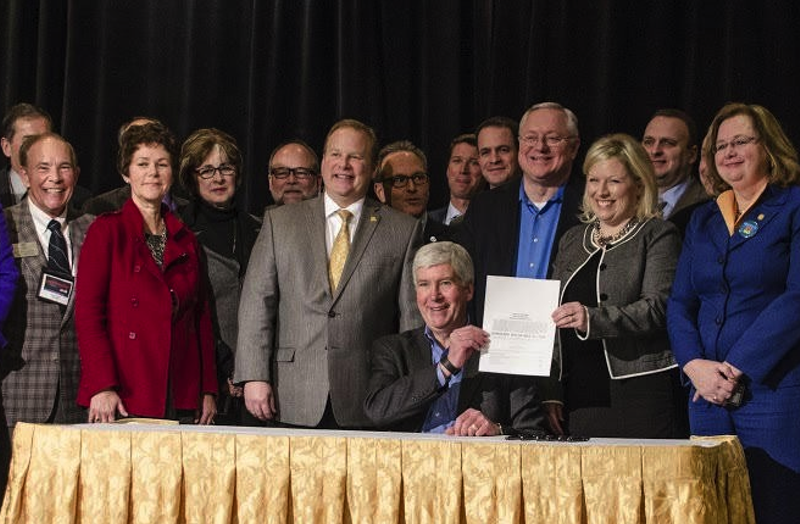 A message from the Snyder administration confirms that, due to decreasing levels of lead in Flint city water, the city's residents will
stop receiving bottled water
when current supplies run out.
A message from the governor himself read: "I have said all along that ensuring the quality of the water in Flint and helping the people and the city move forward were a top priority for me and my team."
You will remember, of course, that "ensuring the quality of water in Flint" was such a "top priority" for the governor that he
appointed emergency managers
who switched the city to the corrosive, undertreated water of the Flint River, which then caused lead, bacteria, and other unwholesome substances to leach into the water supply, causing disease, death, and permanent brain damage.
The governor also said: "We have worked diligently to restore the water quality and the scientific data now proves the water system is stable and the need for bottled water has ended."
What the governor didn't say was that
his administration has repeatedly fought court orders to deliver said bottled water
to Flint residents lacking properly installed and maintained water filters on their kitchen taps. A spokesperson for Snyder has said checking in on Flint residents and establishing whether they needed the water would require "herculean effort ... on the magnitude of a large-scale military operation." (So much for relying on that patient wait for scientific data...)
The governor also said: "For the past two years I have repeatedly been asked when I would declare the water safe in Flint and I have always said that no arbitrary decision would be made — that we would let the science take us to that conclusion." He even included this snappy graphic, which shows how federal lead levels are met. See? It's a chart, so it must be scientific.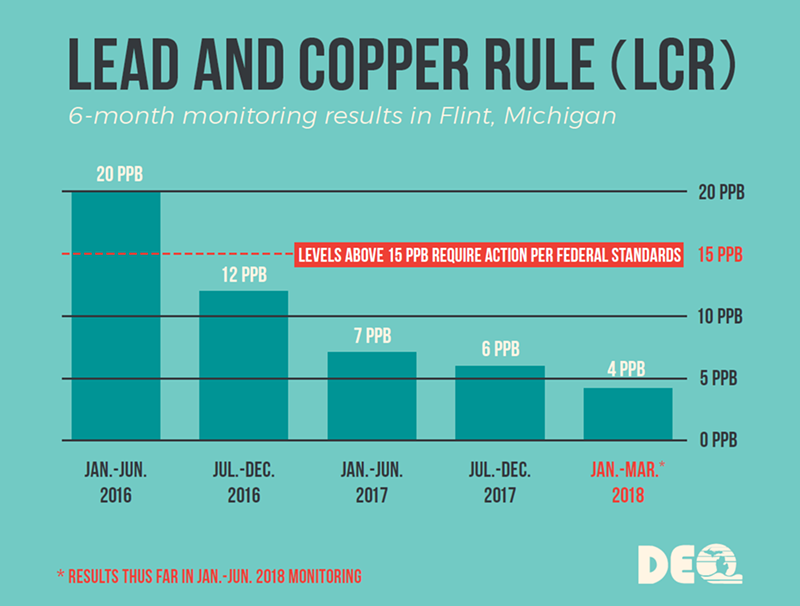 Of course, if we were to pay attention to the science — and not just the law — we'd note that the EPA's own scientific advisers have repeatedly called for the agency to lower the action levels, insisting that they offer
a false sense of security
that allows children to be exposed to lead at levels that can cause permanent damage. Or,
as the CDC puts it
, "No safe blood lead level in children has been identified." But, hey, you know ... graphs ... and science!
Or, as Rep. Sheldon Neeley (D-Flint) told
The Detroit News
, "They point to data and science. From the perspective of Flint residents, it was the same data, personnel and science that failed them. They don't trust them still."
And yet that was not the most insightful comment on the record today. For that, we turn to Erik Olson, Director of Health for the Natural Resources Defense Council, who said: "Earlier this week the state of Michigan greenlighted Nestle's permit to pump 500,000 gallons of Michigan groundwater per day at virtually no cost for its bottled water business. Yet days later the state announced it would no longer give Flint residents safe bottled water."
Stay on top of Detroit news and views. Sign up for our weekly issue newsletter delivered each Wednesday.