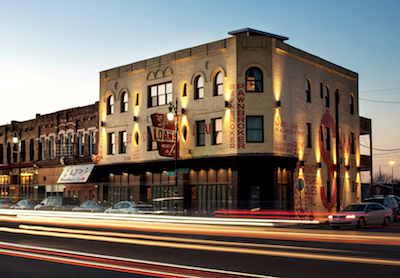 It has been a banner year for Corktown diners and drinkers. When
we reported at the beginning of this year
on just what had happened since a million years ago in 2005, when Slows Bar-B-Q opened, it was stunning. We dropped in at
Detroit Institute of Bagels
,
PJ's Lager House
,
Brooklyn Street Local
,
Ottava Via
,
Astro Coffee
, Mercury Burger Bar, Two James Distillery, and Motor City Wine, most of which had been open less than two years. We didn't even get to St. Cece's or Green Dot, and yet that would have quickly become an incomplete picture anyway, given a string of restaurants and bar openings in the offing, including Bucharest Grill, Rubbed, the UFO Factory, and a new bar scheduled for the old Sam's Loan pawnshop.
Well, we we know in this town, when it comes to getting a restaurant licensed, and up and running, it can take time and delays. (Joke: Why don't the city employees charged with getting restaurants approved look out the window in the morning? Because then they'd have nothing to do all afternoon.)
But with Rubbed marking a grand opening this coming week, UFO Factory up and running, and Bucharest Grill not only open but allegedly working on a
third
location, the last piece waiting to fall into place in Corktown was Gold Cash Gold, which opens today.
Now, no sense mobbing the place. There are diners, of course, who simply must post the first photo on Facebook of their elegant dish just to say they were there, but it can take time to work the kinks out when opening any restaurant. Certainly, the place will be mobbed. We advise those who must rush in to reserve judgment, and those who can bear it to await the dividends of patience.
That said, it sounds like a great concept: seasonal "farmstead" cuisine in a spare and convivial environment. We had a quick chat with Putnam Weekley, local oenophile, who had a hand in devising the wine list, and his remarks sounded encouraging. He told us to expect "terroir, for sure, authenticity, no gimmicks."
In any event, Corktown is culinarily complete …
for now!
Gold Cash Gold is at 2100 Michigan Ave., Detroit.