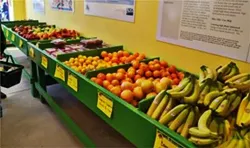 When I head back home from downtown, I sometimes eschew the freeways and cruise north along Woodward, or Second, or Hamilton avenues, eventually driving along Pontchartrain through Palmer Park. That way I get to see what's happening on the street level of the city.
Once you get out of Midtown, a few blocks north of the New Center area, you're pretty much back in the wilderness. That shiny upscale veneer disappears rather quickly and returns to the same grit that you see most everywhere else.
A few years back I started noticing bright, colorful signage in the area. The first one I spotted was the Café Sonshine, with its bright orange and yellow sign standing out like a sunrise above the gray streetscape. The sign was new but it was at the old Mr. Fo-Fo's deli location on Second, so I just chalked it up to a restaurant changing hands and didn't pay a lot of attention to it.
Then, one day I was driving by and noticed a bunch of white teenagers in a fenced-in area by what looked like a garage on one corner. I pulled over and stepped inside the fencing. A white woman, who was obviously the adult in charge, stepped protectively in front of the group of youths. I asked what was going on here. She told me the teens were church volunteers and they were fixing up the building to be an outlet that sold repaired furniture. She didn't seem very comfortable with me there and I went on my way.
I cruised around to Third Avenue and noticed a store called Peaches and Greens, with a sign as colorful as the one at the café. I stopped in at the fruit and vegetable market and started asking questions. The guy there told me it was part of a Central Detroit Christian development, but I was going to have to talk to Lisa to really get any information. I thought I had probably just met Lisa over at the garage and she seemed busy. I went on my way, figuring I'd come back and see how things were going at a later date. But I didn't pay much attention and I never saw any publicity for the warehouse.
Apparently the garage became the Restoration Warehouse, which sells overstock or returned items from retailers — stuff like office supplies, household items and building materials. Not exactly what you would expect on a stretch of Second that doesn't seem to be enjoying the renaissance going on in Midtown.
Then, in the past year, I noticed a sign on a small building that read "CDC Farm and Fishery" across the street from the Fish Nook, a guilty pleasure spot I go to a couple of times a year for a greasy fried fish sandwich.
The CDC building, a former liquor store, always looked deserted to me and I took the sign as announcing somebody's pipe dream that really wasn't happening. A few weeks ago I was passing by there and saw the door open, so I stopped and peeked in. There was one guy working in there setting up a track for lights above a series of tanks in the open space. The guy turned out to be Randy Walker, a builder who's been working inside the donated building for a year. Walker was excited to show off what he's been building.
On the main floor there are shallow hydroponic gardening tanks where CDC management plans to grow herbs. In the basement there are deeper aquaponic tanks where they plan on farming tilapia. I'm not clear on the details, but Walker explained a system where the water from the herb garden will cycle down to the fish tanks. Then the water from the fish tanks will run through some kind of filter inhabited by worms before it's pumped back up to the herbs. It's a closed organic growing system. Walker sneers at the Chinese tilapia that most restaurants around here carry, claiming that the Chinese feed their tilapia pig poop.
All of these developments are in a neighborhood once known as Piety Hill, for all the churches clustered on nearby Woodward Avenue. It might be said that CDC, which is not related to any specific church, is trying to bring a little piety back to the area.
"This is my neighborhood," says Lisa Johanon, CDC executive director. "I've been living here 27 years. We're trying to change the neighborhood and help transform the lives of people who have been discarded and forgotten by society. It's all from a faith relationship. We're trying to make a difference on earth but it's a long-term investment for eternity."
CDC is a nonprofit, but it is an umbrella organization for several for-profit enterprises. There's the café (featuring healthy soul food), the produce market, the warehouse, and the farm and fishery. There's also a landscaping company and a land management company. CDC has plenty of land to manage. It owns Second Avenue Apartments, where the CDC offices are, and dozens of houses in the neighborhood. One CDC project is to restore 35 houses and demolish 35 others.
None of the businesses makes a profit. The warehouse breaks even and the landscaping company would do so if some clients weren't so slow to pay. Still, reports Johanon, among all the enterprises, they only borrowed $10,000 from the CDC last year. That's a pittance. The business plan for the farm and fishery projects a $100,000 annual profit from selling its products to restaurants. The enterprise is ready to go once CDC gets its special land use permit from the city. There's an upcoming hearing for that. Several fish farms are in the planning stages around town, but this one would be the first one to come on line so it's a new track for the city permitting process too. CDC wants to make sure everything is legal and up to code, there's a lot riding on this project. Getting one business to make that kind of profit would make a positive ripple through the organization, which has received funding from the Kresge and Skillman Foundations.
One CDC goal is to repopulate the neighborhood by providing housing, food (it operates two community gardens), employment and education.
"We've lost 56 percent of our population in 10 years," says Johanon.
All of the projects are aimed at making the area more livable. Once the fishery has all its permits and starts operating, the CDC plans a combination Laundromat and fitness center in part of the warehouse building. It's already been named the Fit 'N' Fold, because folks will be able work out on donated exercise equipment while their clothes wash. Then the CDC wants to develop a dental clinic. Community members have requested those projects in planning meetings.
Seeing things like this gives me hope for Detroit. A lot of times, I find out about things because somebody puts out a press release talking about what they are going to do. CDC came to my attention because I noticed what they have done. Showing the results from effort is worth so much more than saying what the plans are. I look forward to enjoying the transformation of the area and feeling a little piety myself as I make my way home.
Larry Gabriel is a writer, musician and former editor of Metro Times. Send comments to [email protected]