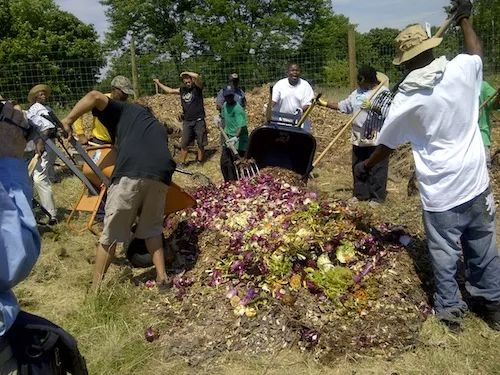 A number of politicians, luminaries, and urban gardeners are going to gather in front of the press at D-Town Farm next week. Mayor Mike Duggan and Sen. Debbie Stabenow will likely pose for photos with a bunch of urban agriculture advocates, including somebody we have a lot of respect for, Malik Yakini. If we've written about him
again
and
again
, it's because he's uses urban agriculture as a starting point to talk about black self-determination and community organizing.
Yakini has acknowledged that part of that is spending your money consciously. Urban ag may not be a cure-all for Detroit's problems, but instilling people with the knowledge that they can grow their own food or keep their "food dollars" in the city is a powerful, even transformative thing. Yakini has told us before that being a good neighbor means supporting your neighborhood businesses, and in Detroit that often means black-owned businesses. These are sensible messages that strike a sympathetic chord with us.
On the other hand, U.S. Sen Debbie Stabenow, who'll be one of Yakini's bedfellows (well, joining him at D-Town's gardening beds, that is) at this press conference, seems willing to make plenty of concessions on what consumers know about the products they buy. She co-sponsored a bipartisan "compromise" bill, legislation that will allow you to know if there are GMOs in the food you buy —
provided you use a smart phone to decode the QR code on the packaging
(or
consult a website URL, or call a 1-800 number
), which will tell you if there are GMOs in there.
Oh, and there are plenty of loopholes in the law that allow
gene editing
, if not modification. And also that the national law overruled more stringent demands for clearly worded labels in Vermont. How weak was the bill on GMOs? Consider that
a report from Eco Watch
declared it was supported "by the very industry that produces and profits from such products, including the powerful Grocery Manufactures Association and world's largest seed producer and pesticide giant Monsanto."
What does it say that a U.S. senator can show up at a Detroit urban farm for a photo opportunity to introduce "comprehensive urban agriculture legislation" after co-sponsoring a bill Monsanto,
the world's most evil corporation
, loves? Insert your rationale here if you like. Sen. Stabenow is doing the best she can given her ruthless opponents. She is at least moving food labeling forward, er ... all evidence in Vermont to the contrary. Say what you will. But this isn't the first time Stabenow,
a ranking member of the Committee on Agriculture, Nutrition, and Forestry
, has opposed labeling.
When she opposed the Sanders amendment to the 2012 farm bill
, she said it would "interfere with the FDA's science-based process to determine what food labeling is necessary for consumers."
In other words, Stabenow believes that deciding how much information you need on what fruits and vegetables to buy isn't your job. It's the FDA's job. And they feel you have enough information as is, thankyouverymuch.
Frankly, these days, it might not be a bad idea to just bypass the supermarket as much as possible, super-secret-encoded labeling notwithstanding, and get your veggies from Detroit's emerging food systems. You know, people like Malik Yakini.
At least they can tell you what they planted, how they grew it, and you'll know it's fresh.
U.S. Sen. Debbie Stabenow will appear at 11 a.m. Monday, Sept. 26, at D-Town Farm, 14027 W. Outer Dr., Detroit.