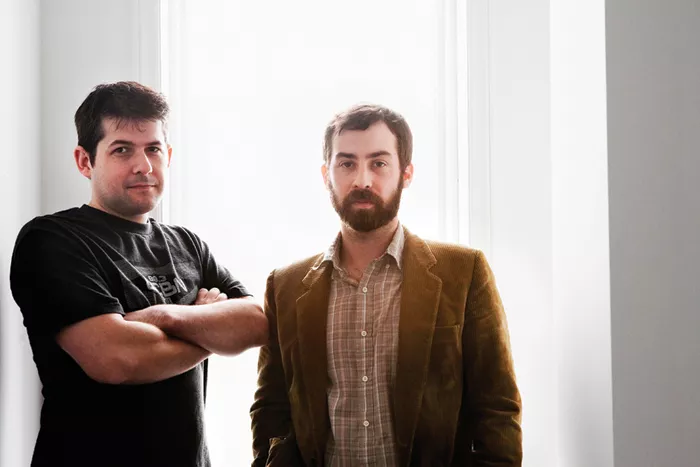 After 15 years of propelling electronic music culture forward, shaping countless artists' careers, and being a massive influential force in techno history, landmark label Ghostly International is celebrating continuous success with an official Movement showcase at St. Andrew's Hall on May 23 that highlights the very best of the syndicate. With performances by Matthew Dear, Shigeto, Adult, Osborne (live debut), JTC, Heathered Pearls, and Mike Servito, it promises to be a personal affair, as the venue played host to many early Ghostly events, along with a Ghostly residency at the Shelter.
The story continues to unfold. Label founder and owner Samuel Valenti IV takes us back to 1999 when Ghostly began its evolution from an idea to reality.
Valenti grew up going to St. Andrew's Hall and listening to DJ Houseshoes [at Three Floors of Fun]. "He was one of the best hip-hop DJs in Detroit," Valenti says. "It was early to mid-'90s, and I started hearing Slum Village and a lot of Detroit hip-hop, and it kind of led me naturally to discover electronic music, especially Detroit techno."
The name of the label stemmed from a high school DJ pseudonym. "I was thinking of DJ-ing under the name 'Space Ghost' and playing with the idea of ghosts as a concept," he says. "It just sort of stuck with me, and I felt like there was room for another label representing the Midwest and local artists that could also work with other artists around the world."
With an idea in mind and a label plan in the works, Valenti, who attended the University of Michigan, stumbled across Matthew Dear, his future co-conspirator and counterpart, in crafting the Ghostly International brand.
"I think [recruiting support for the label] was pretty gradual," he says. "I met Matthew Dear my first week of college. I wanted to [start] a label, and he was already making tracks. I knew that we could start working together and we put together our [first] record with Disco D [Daisha], who passed away a few years ago."
The first single, 1999s "Hands Up for Detroit", was a huge success both in Detroit and Ghostly's homebase of Ann Arbor. Anthony "Shake" Shakir even played the track at the original DEMF back in 2000, a point at which Valenti says he realized something amazing was happening with the label.
"The Detroit and Ann Arbor music communities embraced us, and we found kindred spirits from around the world who were as obsessed with music as we were," recalls Valenti.
Ghostly then hopped on the partytrain, hosting events at important staples in Detroit's musical background such a Hamtramck's now defunct Motor Lounge (recognized worldwide for its prominence in perpetuating techno), the Magic Stick, the Blind Pig in Ann Arbor and, of course, Valenti's precursor to discovering techno, the Shelter at St. Andrew's Hall. The label also threw numerous house parties while continuing to release new music.
"Ghostly started with a very basic construct of releasing 12" records," says Valenti, "but as we met more talent, from designers to photographers, we thought of the label as more of an artistic community than a label. We always wanted to provide different sounds and ranges of talent and always feel inclusive."
That same forward-thinking notion of a sense of community (rather than straightforward label) has been a characteristic of Ghostly through the years, as it's impossible to categorize the artists under one particular style of music. Ghostly encompasses techno (Matthew Dear's alter ego "Audion") house, disco, minimal, new age and synth (ADULT), ambient, and glitch (Shigeto).
"We look for artists whose humanity comes through in the work; that there's a strong degree of character," says Valenti. "The original artists from Ann Arbor and Detroit, such as Tadd Mullinix, Todd Osborn, Dykehouse, Midwest Product and the visual artist Michael Segal, set a real tone."
Even though Valenti has spent the last decade and a half facilitating this artist-to-audience interaction, the process continues to feel new to him.
"It [Ghostly] still feels like a startup, constantly finding its footing but with a little wisdom now," he says. "Just a touch."
And as Ghostly found its first footing at St. Andrew's Hall, creating an ideal 15-year showcase was important to Valenti, both to honor the label and the fundamental venue itself.
"[The showcase] is a great look at the roster of Ghostly and Spectral, and includes artists that we started with," he says. "St. Andrew's and the Shelter have been pivotal places of music education for me. The Shelter also housed our party with Jon Ozias that featured Matthew Dear, Derek Plaslaiko, Mike Servito, JTC, Ryan Elliott, and Seth Troxler, and tons of great guests … so it's a part of what we love about the city."
Also important to Valenti is Movement, a festival that has featured numerous Ghostly artists since its inception as DEMF and paid homage year after year to Detroit's vast musical diversity (another quality of the city Valenti admires).
"Movement is a beacon for the world and the health of electronic music's American roots," he says. "It's a chance to explore and discover, to connect and reconnect with friends and fellow fans from around the world."
Once the official Movement pre-party showcase and festival wraps up, Valenti has more big plans in store for Ghostly.
"We are continuing to grow the Ghostly and Spectral labels, the online boutique TheGhostlyStore.com, and our licensing/publishing company, as well as our new venture, Drip.fm, a subscription platform for labels and artists," he says." By continuing to grow, we hope to honor the communities that have supported us and the heroes who inspire us."
It is with that sense of community, one not born of exclusivity, that Ghostly International has already achieved what few other musical enterprises have — a feeling of togetherness, unbridled creativity and assortment of quality music, with more to come in the future. But for now, the rest of the label's history is still unwritten.
The Ghostly 15 party, part of the Movement Festival, takes place on Friday, May 23, at St. Andrew's Hall; 431 E. Congress St., Detroit; 313-961-8961; movement.us.