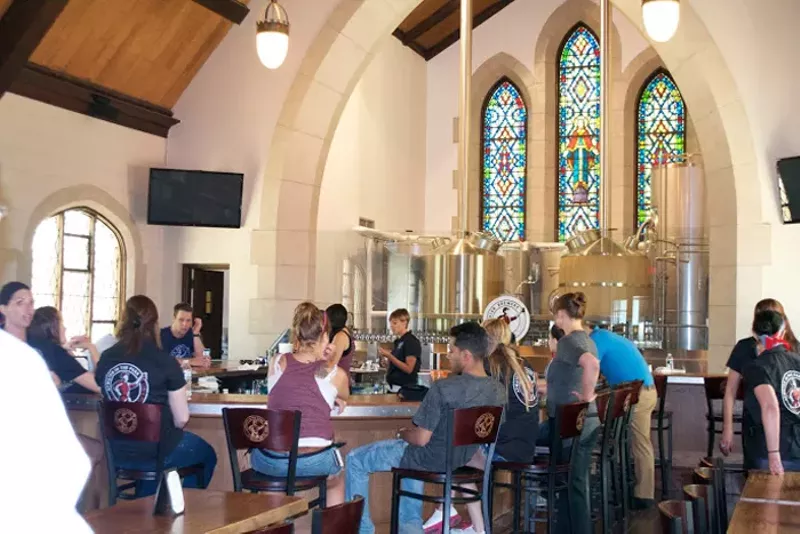 Atwater Brewery and Detroit Paranormal Expeditions are teaming up for the creation of Detroit's first paranormal-themed beer, "Hello From The Other Side," set to premiere Friday, April 13 at Atwater in the Park in Grosse Pointe Park.

The collaboration follows Detroit Paranormal Expeditions' investigation of the 1930s church that houses Atwater in the Park, where a Channel 4 cameraman happened to capture a video with a surprise guest appearance from an "otherworldly" presence.
The video is a low-res, slow-motion panning of the building with a white blob flashing across the screen with overlapping voices in the background. Someone calls the "spirit" Jack and another accuses it of causing back pains.
The brew is infused with sage, an herb famous with crystal gazers and spiritualists for its spirit-cleansing abilities.
The launch party for the dually-spirited drink begins at 6 p.m. with live music from the Thrift Shop Cowboys as well as food specials.
Catch a glimpse of the "ghost" below... if you dare.
Miriam Marini is an editorial intern with the
Metro Times
. She is a sophomore at Wayne State University studying journalism and women's studies.
So many restaurants, so little time. Find out the latest Detroit dining news with our weekly food newsletter delivered every Friday morning.