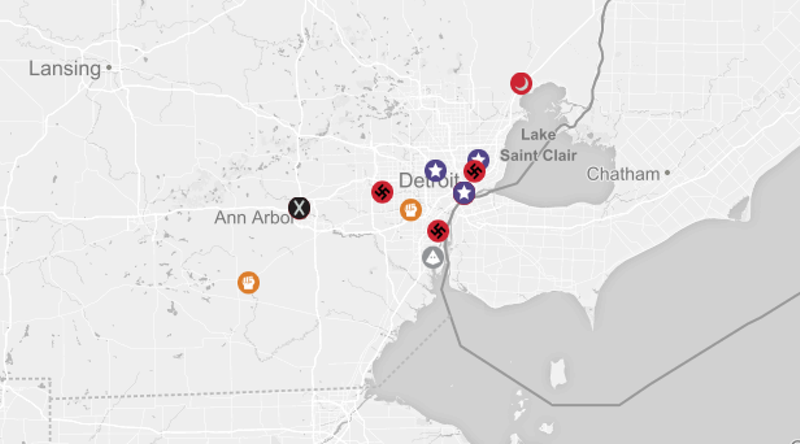 Well, here is something that we never thought would exist — a map of America showing all of the hate groups.
We suppose that after the horrific incidents that happened in Charlottesville this past weekend, it makes sense for us to keep tabs on the Neo-Nazi groups and white supremacists.
The Southern Poverty Law Center did an excellent job of rounding up all the known hate groups in the nation through the group's websites and police reports to create the interactive "
Hate Map
."
According to the report, since 2015, the nation has witnessed a 197 percent increase in anti-Muslim groups, and there are currently 683 anti-government "patriot" groups.
In total, the U.S. has 917 hate groups currently operating within its borders, with 28 here in Michigan.
Here's a quick list of groups who, as defined by SPLC, "attack or malign an entire class of people, typically for their immutable characteristics."
ACT for America, Detroit, Anti-Muslim

Northern Hammerskins, Detroit, Racist Skinhead

National Socialist Movement, Detroit, Neo-Nazi

Loyal White Knights of the Ku Klux Klan, Trenton, Ku Klux Klan

White Rabbit Radio, Dearborn Heights, White Nationalist

Deir Yassan Remembered, Ann Arbor, Holocaust Denial

American Nazi Party, Westland, Neo-Nazi