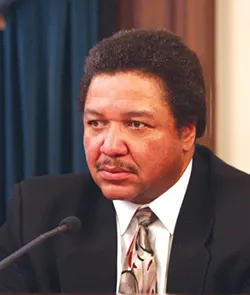 George Cushingberry Jr. celebrated his victory by heading straight to bed, having to appear in Lansing the very next day. Cushingberry, in addition to representing the newly minted District No. 2, is an attorney.

Among his new duties as a city councilman, Cushingberry's first item on his to-do list is, "Talk to the mayor-elect to begin to exit bankruptcy and to meet with my colleagues and figure out a plan. And I intend on going fishing!"

When asked about working with an emergency manager, Cushingberry said that one of his primary goals was to have the city emerge from bankruptcy and have the emergency manager walk away.

Cushingberry has lived his entire life within the 2nd District and is an active and contributing member to his community.

"I'm an assistant pastor with the Northwest Unity Baptist Church and Winship Community Association," he says. "I am a member of the Detroit Metropolitan Bar Association and I intend on continuing to serve on the Michigan Legislative Retirement Board."

In addition to all of his community obligations, George is also a lifelong member of the NAACP. His educational background includes a Bachelor of Arts degree from Wayne State University in 1983, a Master of Arts from Wayne State University in 1988, and Juris Doctor in 1991 from University of Detroit.
"The No. 1 issue [facing District 2] is that they want me to concentrate on making people feel safe and get police response time up. We also need to improve communications about jobs available," he says. "I started a radio show on 1440 AM, Sundays at 2:30 p.m., to help young people find jobs."

Cushingberry has promised his district he'll be an "honest broker of power without being arrogant," he says. "I'm not there to just collect a paycheck, I'm there to serve the public."

He says he also plans to continually review the city's available funds and find ways to increase revenue. Detroit property taxes are fairly high, "and I want to get away from property taxes." Ultimately, though, he wants to be in the streets, on the front lines, talking to the people.

"I want to maximize everything we can for the people of the city of Detroit," he says.
DISTRICT 2

POPULATION & VOTING DATA
Total District Population: 105,931
Voting Population ( >18 ): 80,219 (75.7%)
Voter Turnout: 23.5%
Percentage of Vote Won: 53%

RACE & ETHNICITY
Hispanic: 927
Non-Hispanic White: 2,675
Non-Hispanic African American: 99,935
Other: 2,394

INCOME & POVERTY
Per Capita Income: $18,292
Percent of Households in Poverty: 25%

EDUCATIONAL ATTAINMENT
Percent without High School Diploma: 16.3%
Percent with High School Diploma: 31.1%
Percent with Some College: 28.2%
Percent with Associate's Degree: 7%
Percent with Bachelor's Degree: 9.3%
Percent with Master's Degree or Greater: 8.1%