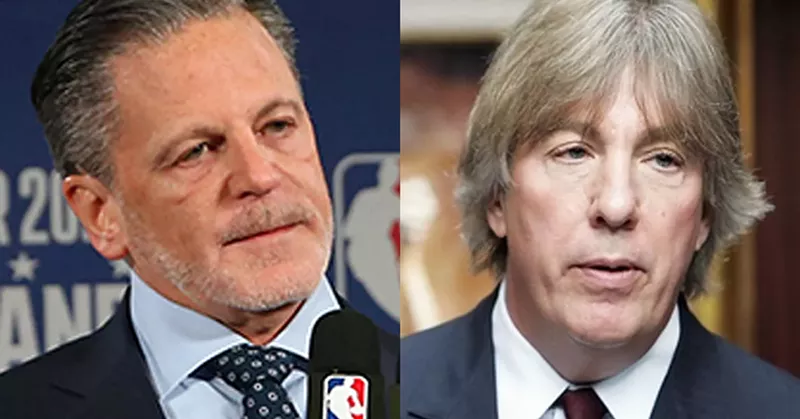 Former
Metro Times
columnist Jack Lessenberry has
a podcast
now. On his first episode, which was uploaded on Tuesday, he took a call from attorney Geoffrey Fieger — who offered a freewheeling, phlegmatically delivered take on a variety of topics, including Detroit, Dan Gilbert, Donald Trump, and more.
At one point, Lessenberry asked if Fieger thought Mayor Mike Duggan had Detroit, a city that voted for Fieger during his failed 1998 run for governor, on the right track. Fieger replied that it wasn't thanks to Duggan, but businessman Dan Gilbert.
"No, not Duggan — Dan Gilbert," he said. "We need 50 more Dan Gilberts. You cannot exist without 50 more of him, and we've done wonderfully. Nobody should criticize him for anything he's done."
After saying nobody should criticize Gilbert, Fieger then went on to appear to criticize Gilbert — although he insisted he wasn't criticizing him:
Although, you know, he's bought up the city of Detroit and he's going to develop only a very, very small part of it. He's going to try to flip the rest, but I don't see anybody else coming in to do what he's doing. And I'm hoping that they do. Because you know, I was a little concerned several weeks ago. There was quite a number of stories about the fact that Wall Street was rating that Quicken Loans as junk bonds because they ... they don't understand the nature of his business. I know he was quite upset about that, but quite frankly, I don't either. I don't see that as an enduring business model, and for the entire city of Detroit to be dependent upon the relative success of Quicken Loans is to me, would be rather scary.

And I'm not being critical of him. I think he's doing an amazing, amazing job. And even if he was rock-solid and that, you know, they used to say, "as goes GM, so goes the country"... you see what happened at GM. So that means, I think relatively that means nothing, but we can't exist on one thing. We can't. We've been a one-horse town with three auto companies, and look where that got us. We certainly can't be a one-horse town with one Quicken Loans. There's got to be more.
Fieger had plenty of criticism for President Donald Trump, however, as well as a country that would vote for him:
Our willingness to have elected a guy who was an utter — and if anyone cared to look, was obviously a con man who had terrible, terrible business acumen, who was a self-promoter par excellence, and whose really only success was The Apprentice TV show, which permitted him or put him in front of millions and millions of people for 14 seasons, and that people somehow believe that he was that character — he was a thousand times worse than the character he was playing on The Apprentice. They call it a reality show, but it's not, it's scripted. That does not bode well for America.
Fieger thinks Trump supporters are racist, and willfully ignorant. (Fieger appears to have forgotten that Gilbert's Quicken Loans
donated $750,000 to Trump's inauguration
; the inauguration committee
is being investigated
for potential wire fraud and money laundering, among other things.) Fieger also notes that he himself was charged for campaign finance violations in connection with John Edwards' 2004 campaign — and for less than what Trump has been implicated in so far. (Fieger was later acquitted on all counts.)
Trump's obviously the result of pure, unadulterated — and they don't say it in the press — racism. His ability to maintain a level of 40 to 45 percent of the electorate, no matter what he does in the face of [the Mueller] report, which demonstrates if somebody reads that, especially the second half of that 400-page report... We have a criminal, we have a criminal in office.

And this is just a criminal in regard to the interference of Russia and obstruction of justice. Nobody's talking about his real criminal activities, which is financial criminal activities. He's run a house of cards financial scam for years. He went bankrupt four times. He's a scam artist.

And that's why he's gone crazy in terms of the House going after his finances and getting into his, not only his tax returns, but his auditing companies. I mean, everybody forgets by the way, Cohen is going to jail for election fraud. And the indictment says Trump was part of the election fraud, and everybody forgets about that. I was charged for a lot less than Trump was engaged in. ... I was charged with obstruction of justice for telling an FBI agent that my dead partner should answer his questions. Now, if that can get you charged in a grand jury and allow that to go to trial, anybody who says that the facts were there for Trump's obstruction of justice knows nothing about the law.
On the bright side, Fieger is optimistic that the Democratic Party can defeat Trump:
Yeah, I don't think there's any question that a competent Democrat can and will defeat Trump. All you've got to look at is how he was elected in this past election: Michigan, Pennsylvania, and Wisconsin, by something less than 90,000 votes, 8,000 votes in Michigan. That's not going to happen again. He's going to lose Michigan. I can't conceive of him winning Pennsylvania or Wisconsin. So how does he win now? What states has he got? Is he likely to win under the Electoral College system? That's, you know, he won by sheer almost accident, certainly didn't win the popular vote, and I don't see a circumstance... and it was truly a royal flush, if you want to liken it to something that could happen again, he would have had to build up some type of ability to duplicate that.
A longtime columnist for
Metro Times,
Lessenberry resigned after an article by
Deadline Detroit
reported on allegations of sexual harassment leveled by journalism colleagues and students at Wayne State University. He blogs at
lessenberryink.com
.
The full episode is below.
Stay on top of Detroit news and views. Sign up for our weekly issue newsletter delivered each Wednesday.