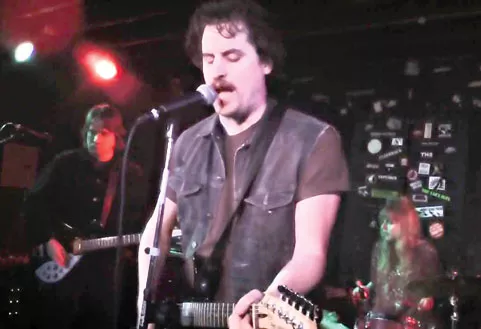 On Friday, San Fran veteran proto-punk band the Flamin' Groovies is playing the Magic Stick. That, in and of itself, should result in much rejoicing. However, add much-traveled garage rocker Jimmy Ohio to the bill (plus the Sights) and the mass load-blowing can begin.
Originally from Detroit, Ohio has played with bands in New York and Chicago as well as locally. For the last five years, he was living in New York City before returning from exile to the Motor City and hooking up with some local noisemakers.
"Jeff Meier, who plays guitar, said, 'Jimmy, you need a band,'" Ohio explains. "I said, 'Yeah, why do you think I'm doing this solo stuff?' We got together and we were trying to think of who to play drums. We came up with Deb Agolli, who's an amazing drummer. She hadn't played in years; she was playing with Outrageous Cherry and those guys a long time ago. She kinda told us she was sitting around waiting for someone to ask her. It's her first band in years. We're all together and digging it."
Years earlier, Ohio was part of two-piece Chicago-based band called the Camera Club. Following that Chicago stint, and returning to Detroit, he formed the first version of the Ultimate Lovers. That band was together between 1999 and 2003.
"I played with Matt Blake in a two-piece called Misty," Ohio says. "I did some solo stuff and then moved to New York where I got a backing band together, and just went under Jimmy Ohio. I played some really good shows out there. I did a European tour, flew back here and recorded an EP with Danny Kroha, recorded in a little church in Hamtramck."
Having disappeared and returned a couple of times, Ohio is in a better position to assess the differences between the Detroit scene then and now.
"I think it's much cooler than it was in the early 2000s," he says. "There was a lot of ego in Detroit as it was getting more attention; it was just lame. I tried to stay out of it as much as possible. It's cooled down now and people are just back to wanting to rock. There's a new guard of kids who sound a little more pop-oriented. It's taken a new direction. It's not all cookie-cutter."
That's an interesting perspective, considering that nostalgia-tinted goggles blind so many musicians. Countless artists think back with longing to a time when they were young and driven by adrenaline, enjoying memories of easy late nights, and maybe some disposable income. Not Ohio. It is in this new, pop-laden musical landscape that the man has assembled this new version of the Ultimate Lovers.
"It's a different lineup," he says. "We do some of the songs from the original Ultimate Lovers, but it's kind of a return to the genre of garage rock. Misty was harder, more awkward music. The solo stuff was a little different in some ways — more orchestrated. This is a return to that kind of raw garage sound."
While Meier is the Flamin' Groovies fan in the band, Ohio says we can expect "magic" and "a whole lot of love" from the Ultimate Lovers set. Oh, and panties too.
"We've got these panties that we sell," he says. "They have my face on the crotch and then Jeff and Deb on each cheek. We went to Canada and man, they sold out like crazy. I'm getting all these photos of girls in their underwear. It's a wonderful and amazing thing."
Jimmy Ohio & the Ultimate Lovers plays the Magic Stick with the Flamin' Groovies and the Sights on Friday, Nov. 8, 4120 Woodward Ave., Detroit; 313-833-9700.