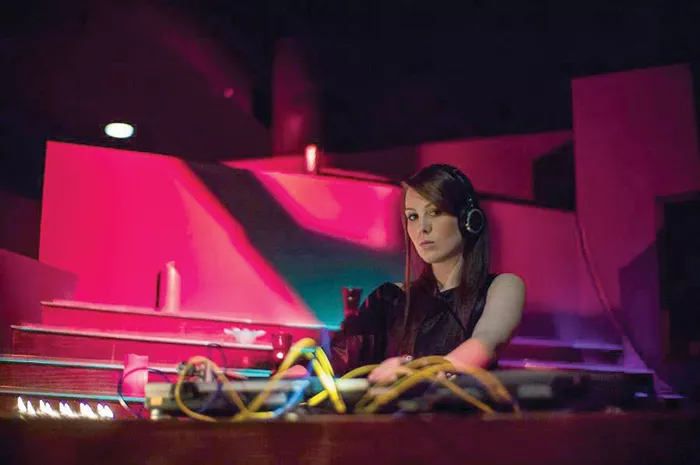 Gabi, full name Gabriele Schwarz, is performing at Movement for the first time this year, and she has just been picked by Paxahau (the people responsible for the festival) to be a resident DJ throughout the next year. It's fair to say that she's riding on the crest of a wave right now, made all the more impressive by the fact that she's self-taught. She's also a classically trained pianist. Shit, is there anything that this Detroiter can't do?
Metro Times: When did you start making music?
Gabi: I started playing records in about 2006, when I was 16 years old. It wasn't actually until I went downtown to TasteFest one year that it fell into place. All these weird, bleepy, clicky noises can be combined to make something totally different. It's not like a rock concert where you play a song and you're done. I fell in love, and I started going record shopping around Detroit. I started collecting, and I taught myself how to play.
MT: You're completely self-taught?
Gabi: Pretty much. I had some direction but it was pretty much me, trial and error in my drum room. Everybody thought I was super-weird.
MT: How would you describe your own sound?
Gabi: I would describe my sound as pretty dark with dubby bass lines, but with melodic, very ethereal melodies over the top. It's kind of like a cross between deep house and classic dub-techno.
MT: We read that you were born in Germany?
Gabi: That's correct. I only lived there for a couple of short years. My parents were in the military. I lived in Frankfurt, and then I lived in France, a short train ride from Paris. Then I moved around the United States a lot. But, yeah, that's a cool, little-known fact about me. How could I not love electronic music?
MT: Is it true that you play piano too?
Gabi: Yep. It makes it nice now because I have an Ovation synthesizer, which is like a big keyboard. It makes it easy because it makes it look like I know what I'm doing.
MT: Have you ever performed at Movement before?
Gabi: I have not. This is my first year. I have attended. It's a pretty big deal. I've been watching people up on the stage since I was little, since I got into the music. Even before I was going, I always knew what it was.
MT: What are your plans for the set?
Gabi: I'm starting off the second day, and I get two hours so I can get into it. The first hour I'll start off softer, more melodic and deep, then I'll get into the harder stuff. I'm going to play some old-school stuff, which I love.
MT: What's next for you after Movement?
Gabi: Actually I can tell you this now, but I just got picked up by Paxahau as a resident DJ. That's pretty big. It's not going to stop with the festival. Any Paxahau shows that they do, you'll probably see me on some of those, opening up for some bigger acts. We've been discussing traveling and some out-of-state gigs for me.
Gabi plays at noon on Sunday, May 25, the Movement Electronic Music Festival's Made in Detroit Stage; movement.us.