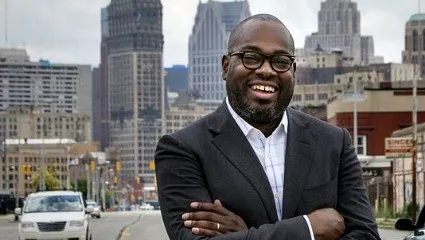 This story has been updated to include a comment from WDET.
Pulitzer prize winning
Free Press
columnist and Detroit media icon Stephen Henderson has been terminated after the paper's management says credible allegations surfaced that his behavior was "inconsistent with company values and standards."
The
Free Press
announced the termination in an article today, stating that the firing comes after an internal investigation uncovered Henderson's "inappropriate" behavior with more than one female colleague. The investigation was launched after Detroit minister W.J. Rideout III made then-unsubstantiated allegations about Henderson's behavior.
Rideout, who hosts a radio show on WFDF (910 AM Superstation), was suspended after making claims against Henderson and WXYZ anchor Malcom Maddox. Maddox has since been put on administrative leave.
Henderson, who also hosts Detroit Today on WDET as well as American Black Journal on DPTV, has been an editorial page editor at the daily since 2009, according to his
Detroit Free Press
bio.
Henderson will remain at WDET, according to a statement from the radio station. In an email to
Metro Times
, WDET general manager Michelle Srbinovich says they currently have no cause to fire the journalist.
"Based on the information currently available, WDET does not see cause to terminate Stephen Henderson's contract at this time. Despite WDET management repeatedly encouraging staff to come forward with any claims of inappropriate behavior within the workplace, Wayne State has not received any complaints against Henderson during his time serving as a contracted host at WDET. However, given the action taken by the
Free Press
, and our commitment to providing a safe environment for all of our employees, WDET will conduct an independent, station-wide investigation to ensure that our staff has the opportunity to share their concerns and report any incidents that require further examination. Any situation that compromises university policies will be dealt with swiftly and decisively," Srbinovich told MT.
MT has reached out to DPTV about Henderson's ongoing involvement there and we will update this story with the station's comments.
In a phone call following word of Henderson's firing, Rideout said he wanted to see Henderson removed from all of his roles.
"What he's done over there he'll do it anywhere," Rideout says. "If you're a predator in one place you'll be a predator somewhere else.
"If you're a predator at the news you'll be a predator at the McDonalds," he contines. "If I was a baby rapist I don't care about where I rape babies, I just go around raping babies."
Rideout would not describe the nature of the allegations against Henderson. He said "more than one" woman had come to him to describe being sexually harassed by the local media icon. The allegations were made this year, he said.
Henderson told the
Detroit News
he was "stunned" by the announcement.
"I dedicated 18 years to this newspaper over three decades, all of it performing at the highest level. I may have more to say on this later, but for now, there is much other work to be done here in the city of Detroit," he told the
News
via Facebook.