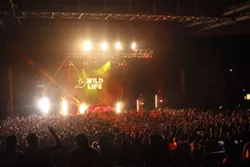 Looking to make some extra cash this summer? Freedom Hill in Sterling Heights plans to hire 250 part and full time positions to work throughout the 2015 summer concert season. The season starts at the end of May and runs through October.
They're looking for experienced box office sellers, guest service reps, security guards, housekeepers, concessions workers, and parking attendants.
There will be a job fair at Freedom Hill Banquet and Event Center on April 29 from 3 to 7 p.m. Prospective employees are asked to bring a completed copy of this
job application
as well as a resume. According to a press release, wages will vary depending on the position.
Freedom Hill is located at 14900 Metropolitan Parkway in Sterling Heights.