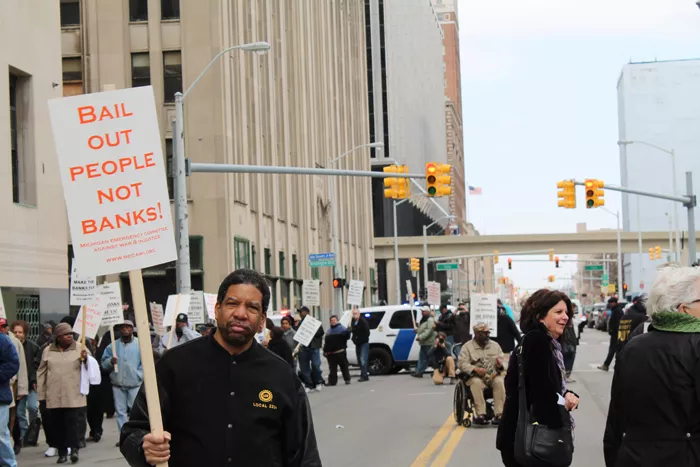 In last week's column, the hotheads at the Hits were a bit cool to the Detroit dailies' assessment of the so-called "grand bargain," an $816 million deal to shore up Detroit's pensions, spin off the Detroit Institute of Arts from city control, and, officials hope, make for a smoother exit from bankruptcy court.
We were miffed by the newspaper's decision to bury one key detail in its reporting on a tentative settlement between Detroit and its two pension funds: The state still needs to approve a $350 million settlement in order for the grand bargain to happen. Considering it's an election year, this is one giant, unknown variable. We noted the Freep's initial lukewarm response to this key detail, but, later in the week, the paper's editorial board urged Lansing to follow through:
"Detroit's bankruptcy now rests in the hands of the state Legislature, which must act as quickly as possible to approve its piece of the grand bargain. Our advice: Don't mess this one up."
But, as MT's Jack Lessenberry ably points out this week, that expeditious timeline for the grand bargain could grind to a halt: State House Speaker Jase Bolger (R-Marshall) is now demanding unions representing Detroit's retirees front some cash for the "grand bargain" before he'll even consider bringing the $350 million pledge up for a vote.
"It's entirely reasonable to expect the unions to give back to the very people they profited from," Bolger said in a statement to media outlets.
Union leaders were especially taken aback, as Bolger, for whatever reason, decided to wait until the last minute to let everyone know this was his prerogative. The speaker's new expectation called to mind a remark from Sharon Levine, an attorney representing Detroit's largest union in the city's bankruptcy, during a court hearing last week.
Levine, using common sense, asked the judge overseeing Detroit's bankruptcy how retirees can faithfully vote on the currently proposed pension cuts, without a guarantee that Bolger and his comrades won't screw things up. Detroit Emergency Manager Kevyn Orr's current bankruptcy-exit plan calls for 4.5 percent cuts to general retirees' pensions with eliminated cost-of-living adjustments, whereas police and fire employees would keep a 1 percent COLA and see no cuts to pensions. But if the state doesn't sign off on the funds, Levine reportedly told the court, the pension cuts could balloon to nearly 30 percent.
Detroit's pensioners must be dismayed to know their fate lies in Bolger's hands. It was never going to be an easy task to win the state legislature's support for the proposal, yet in one fell swoop the speaker found a way to make it even harder.