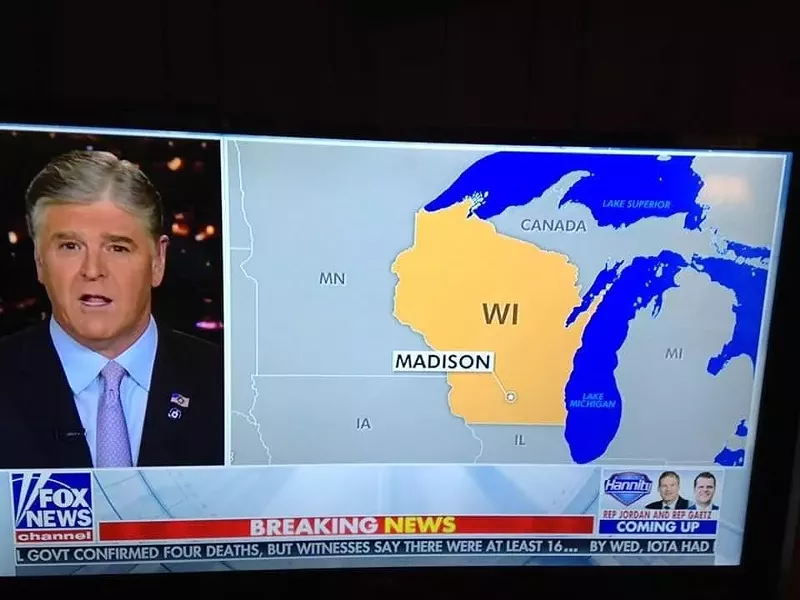 This is becoming ... a thing. And by
this,
we mean Upper Peninsula erasure.
We're not one to give conspiracy theories much thought — though
Rudy Giuliani's recent public melting
, Mitch McConnell's
zombie hands
, and Vice President Mike Pence's
blood eye
have us considering the validity behind the existence of "
lizard people
" — but there has to be
something
wicked behind the constant Michigan-related mix-ups.
The latest flub comes from none other than the dunderheads over at Fox News,
the same network that mixed up Mississippi and Michigan
when reporting on Hurricane Sally in September. For the record, Michigan was not in Sally's path. Like, not even close.
This time Fox News erroneously labeled Michigan's Upper Peninsula as being part of Canada while reporting on some trifling post-election happenings in Wisconsin.
@UpperPeninsula: ...and it appears we're Canada again. pic.twitter.com/PumpzvZnCy

— Michael Riley (@mpatrickriley) November 19, 2020
Some Twitter users felt this was a slap in the face to Michigan's Yoopers, while others suggested Canada should be the offended party in Fox's error.
Admittedly a mistake, but would that be worse than being part of Michigan?

— Grumpy Dad Bod Mike (@bod25mike) November 20, 2020
The disrespect! pic.twitter.com/rqxQUxKOKC

— G (@PaidMake) November 20, 2020
Of course, Fox News is not alone in their mitten muddling. There's even a Facebook group dedicated to
maps that omit the Upper Peninsula
.
In September, White House Press Secretary Kayleigh McEnany
mixed up Michigan and Mississippi
when making a congratulatory announcement welcoming the return of Big Ten football during a pandemic. Of course, she mistakenly booted Michigan's teams for Mississippi's because state abbreviations
are
a really difficult thing to Google.
Soda pop brand Mountain Dew is also guilty for having
erased the U.P. during its 2019 #DEWnited campaign
when they let Wisconsin absorb our pleasant peninsula on its promotional material. To make up for their mistake, they designed a special limited edition bottle of Dew
just
for our Yooper neighbors.
It's your turn, Fox.
@FoxNews is dumb and sloppy. Facts and the truth don't matter.

— Robin Walker (@rwalker7841) November 20, 2020
Stay on top of Detroit news and views. Sign up for our weekly issue
newsletter
delivered each Wednesday.