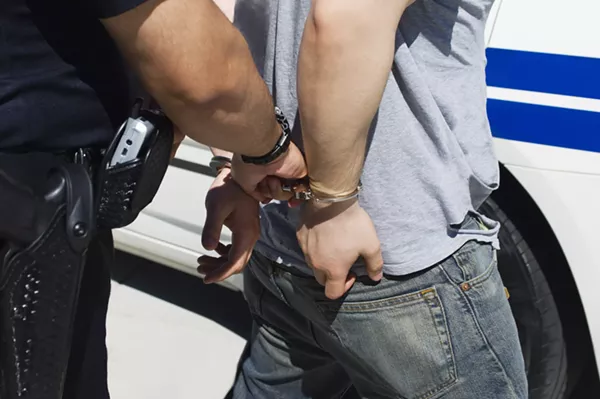 You know, it's easy to get down about things these days. The environment's fucked, our President is cozying up to the Russians,
this accident-prone koala keeps getting its head stuck in a fence
... it's just bad news all around. But sometimes, for your own sanity, you've got to figure out a way to add a little darkly twisted hilarity to an otherwise downer situation.
For us, that means poking fun at people that got arrested for really stupid shit.
Like driving all the way from the 'burbs so you can dump your trash on Detroit's east side...

One man's trash is another man's treasure, but in this case, two men from Taylor were taken into custody on outstanding warrants after they were seen
illegally dumping at an area of Seven Mile and Antwerp
. With a full-to-the-brim, 20-something-foot U-Haul, Eric Strong, 41 and Clarence Lake, 49 of Taylor were arrested for illegally dumping their load. The two suspects were aided by a third suspect, a woman who was taken to a local hospital due to a medical condition.
The men
were issued
blight violations, costing them a hefty $3,530.
Or stealing from churches and expecting God to be chill with it...

Although arrested in Ft. Lauderdale, Fla., Robert Lee Mosley gets a Detroit's-dumbest-arrests-nod for facing felony theft charges after being accused of taking more than $120,000 from Fort Lauderdale's Mount Bethel Baptists Church. Though never formally charged, Mosley's antics are in character with his actions in 2013 — when he spent several months in Detroit collecting thousands of dollars in an effort to help churches join the Michigan Department of Education's Summer food service program — a program that the churches didn't need to buy into.
Unfortunately for Pastor Constance Harvey from Rose of Sharon's Christian Assembly, that lesson was learned the hard way. After giving Mosley $600, he promised Harvey that her contributions
would help to bring approximately $300,000 to $400,000 in funds
that could be used to benefit both the church and community. However, that plan never came to fruition and so Harvey went to
Detroit
Crime Commission who launched an investigation into Mosley.
Mosley has been charged in Florida with grand theft and money laundering.
Or having your face plastered over Reddit's r/trashy because you stole an antique milk can...
In a world rife with social media shakedowns, if you're going to commit a crime (no matter how petty) you better make sure you're not caught on camera. Which is what happened to 22-year-old Racheal Dabelstein of Westland who stole a family heirloom off of the porch of resident Vince Harvey. Footage from Harvey's doorbell cam shows Dabelstein
brazenly walking up to the door at 2 a.m.
, with bright motion-sensor lights shining on her.
Because the 100-year-old antique milk can was a cherished family heirloom, Harvey shared stills from the security camera on social media. The post went viral, finding its way to Reddit's r/trashy thread.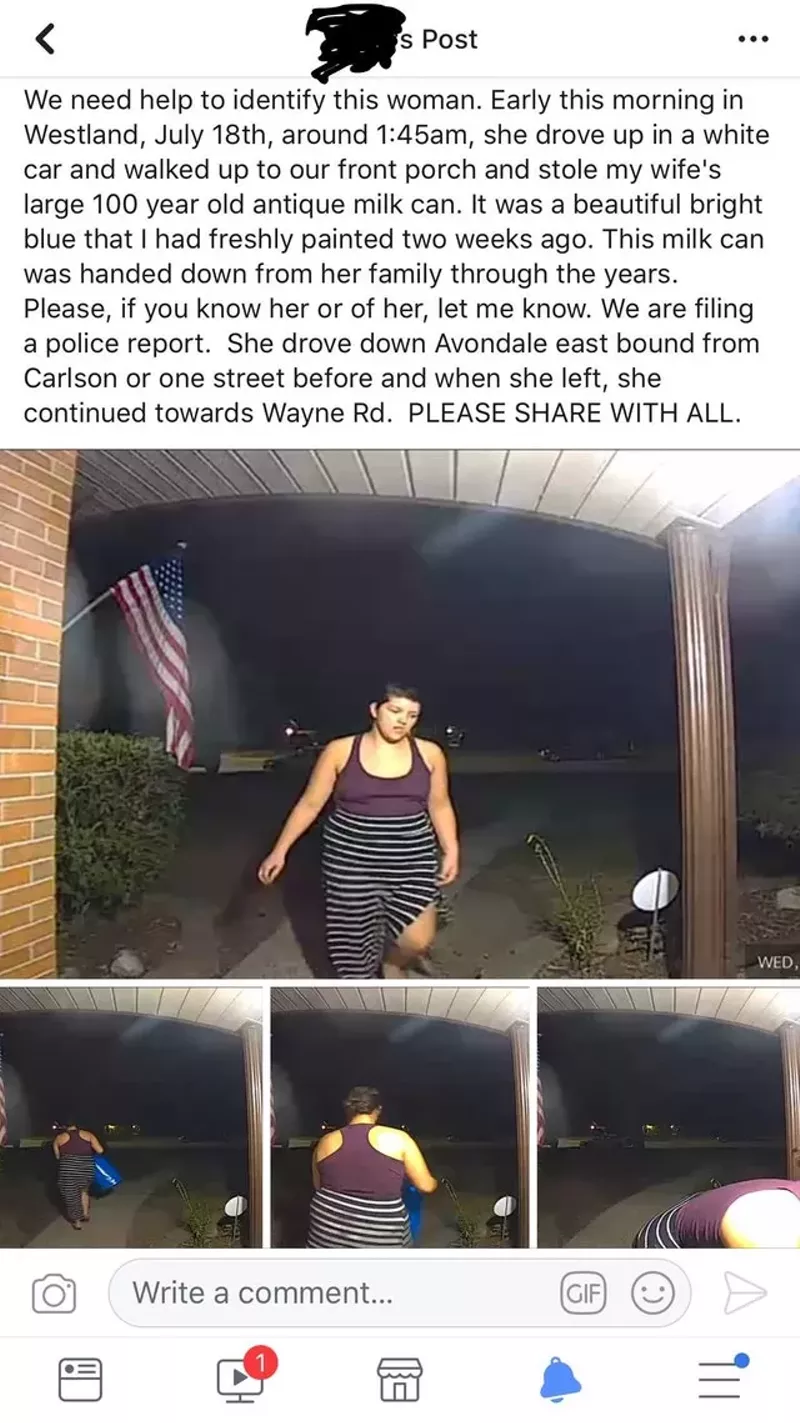 Police, who had contacted Dabelstein in regard to another complaint, recognized the young woman from the security footage. She was arrested in possession of other stolen property and has been charged with two counts of larceny.
For spitting on a man over a parking disagreement...
Detroit Mercantile owner Robert Stanzler learned just how quickly your actions can have consequences after he was filmed
spitting into the phone camera of Ibrahim Muhammad
. The dispute emerged in a parking lot near The Eastern and Detroit Mercantile in Eastern Market on Tuesday morning, when The Eastern was hosting a day-long networking event called Good Pitch Local.
By 9:30 a.m., nearly 200 had arrived at the event which is when Stanzler began yelling at people for parking on his side of the lot. Witnesses say that after individuals moved their car, Stanzler moved his truck to block any of the free remaining space in the parking lot. Stanzler also continued to confront Muhammad, who was working as security and manager of the venue.
Witnesses say Muhammad remained calm during the confrontation, taking his video out to record the comments that were being made by Stanzler. When the video beings recording, Stanzler is seen flipping off the camera followed by a close up of him spitting into the lens.
Police were called and Stanzler was arrested and charged with assault.
The story of a white man
spitting
on
a African-
American man immediately went viral, with Stanzler
issuing a public apology
for his actions. However, for Stanzler, it might be too little, too late as his store was subsequently
dropped as a distributor of Dearborn-based workwear brand, Carhartt
.
Stay on top of Detroit news and views. Sign up for our weekly issue newsletter delivered each Wednesday.